If you are starting a new business, you have to pick the right name. There is a lot that goes into figuring out what is "right" — including is the name unique, is it memorable, is it descriptive of what your business does and provides, and so forth. But one thing many startups ignore is how the name will play out across the internet and its various manifestations. Becoming master of your domain (ok, you know I was going there, sorry) isn't easy, and it has gotten a lot harder.
When I first got my domain (strom.com), the internet was still shiny and new, and largely undiscovered large tracts of land ripe for the picking. Getting my domain took a matter of minutes, and didn't cost me anything. Then the land speculators moved in, and we have the mess that we are in now. Why didn't I pick strom.net or for that matter davidstrom.com while I was at it? Don't know (My full name is in use by a photography firm now.) I did manage to flip a domain that I owned for all of a day or so and made some coin, but that nothing like being-able-to-retire kind of dough. Sigh.
I have said for years that the best domain names are aurally-pleasing, meaning that you can say them to someone and they can remember the name and more importantly, remember how to spell it without you having to spell it out for them. (If you have to insert hyphens or extra letters, that spells trouble.) But that is just the first part of your domain.
When I wrote about this topic back in 2006, the number of top-level domain extensions — the second part of the domain after the dot — were limited: besides the usual stuff of .com, .net and .org to choose from, we could also select various country-specific extensions such as .uk and .fr. Since then, ICANN, the standards body that sets the rules, has introduced hundreds of extensions, from .store to .xyz to .info to business-specific ones like .travel. I have owned for many years webinformant.tv, which was a fan favorite for a while (the extension refers to a South Pacific island which has reaped some small rewards), just like the countries of Anguilla and a territory in the Indian Ocean have done for .ai and .io respectively.
But the domain name is just one aspect of your internet identity. There are also social networks, where you want to coordinate what you use for your domain name with the user account that will be part of any future communications. Given the millions of user accounts on these services, that is a much harder name space to find something that hasn't already been taken.
This means you need a better search tool, and there are several places you can go. No single tool does it all — are you surprised?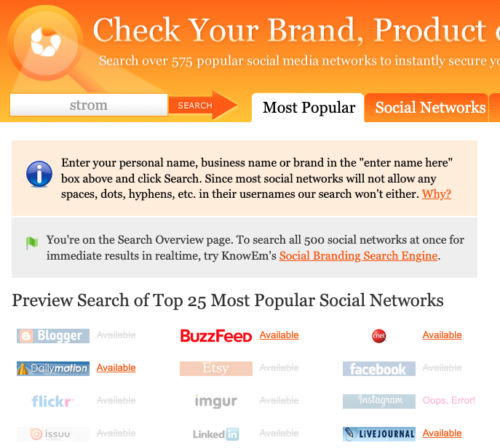 My favorite and initial go-to for this research is Knowem.com. It allows you to search through 500 popular social networks, along with over 150 domain extensions, and the entire USPTO Trademark database. You can quickly figure out what has been taken, and what is still available. The domain extension search is focused on the country-specific ones, which it arranges by continent. It only shows you whether or not a domain is available.
Second best is Google's own domains.google — this allows you to search 300 domain extensions if you want to find something a bit more unusual. It also shows you the current market rate for a particular available name, which may or may not be accurate, depending on which registrar you end up using to buy the domain. For example, both strom.tech and strom.store are each available for $1000/year. I will give both a hard pass.
If you want to do further research on just the domains, I would also use  Domainchecktools.com. It provides deeper research into about-to-expire domains, which again may or may not be accurate. Some of this info can be obtained from the internet command whois, which shows you sometimes who owns a particular domain and when it was purchased and when it expires.
Then there is the entire world of whether or not to use a domain broker to hold your cash until the domain record is transferred over to you and which registrar to use to handle your domain and whether that should be the same as the ISP that will handle your actual web and email services. I prefer to have separate entities just in case I want to move the domain independently with the actual content, but will leave that for another day.