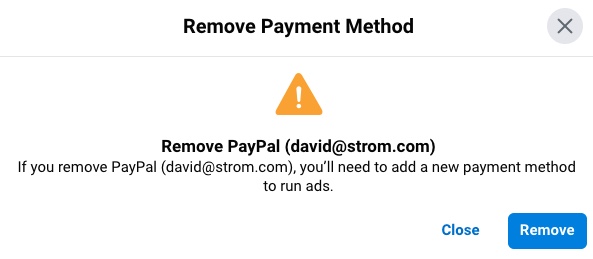 Hopefully the day will never come when you find your Facebook account has been hacked or taken over. It is an awful feeling, and I feel for you for the world of hurt that you will experience in time and perhaps money to return your account to your rightful control. Let me take you through the recovery process and provide some proactive security pointers that you should follow to prevent this awful moment from happening, or at least reduce the chances that it will.
In this post for The Verge, I explain the three different scenarios (a friend borrows your account, someone uses your photo on a new account, or you truly have been hacked) and how you can try to get your social life back. It isn't easy, it could cost you a lot of time and a bit of money, and there are steps you should take to protect yourself now that will reduce the chances that your account will become compromised — such as removing any payment methods that you may have forgotten about, as shown above.
And if you would rather listen to my descriptions, my podcasting partner Paul Gillin interviewed me on this subject in a recent 16-minute episode.