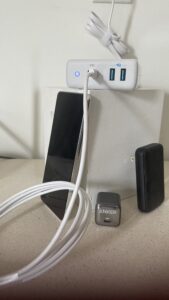 With USB-C finally more-or-less standard across phones, tablets and laptops, and fewer and fewer manufacturers including chargers in the box with their products, a myriad of charging blocks have become available that promise to get your batteries topped up as quickly as possible.
To find the best USB-C charger for your devices, we tested 15 devices from respected manufacturers to find the best for your needs, whether you need to charge a phone, a laptop, or a bagful of accessories. My top pick was the PowerPort Atom III Slim — it has a single USB-C port, and is rated at 45W (there are older versions still on the market that are rated at 30W, so make sure you are getting the higher capacity unit). We liked the smaller footprint slim design, which combines a slimer unit (5/8" thick) with a folding power prong. These make fitting it behind furniture (or carrying in your travel bag) easier.
You can read my review of these chargers here for CNN's Underscored site.