Earlier this month, a group of hackers published a massive dataset stolen from various local law enforcement agencies. The data has been labeled BlueLeaks and contains more than 269 GB of thousands of police reports that go back at least two decades from hundreds of agencies from around the US. The reports list private data including names, email addresses, phone numbers and bank accounts. The source is a group called Distributed Denial of Secrets or DDoSecrets, which like Wikileaks has been publishing various leaked datasets for many years.
The data can be easily searched as shown in the screenshot below.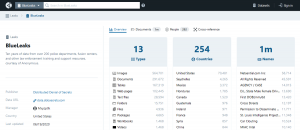 What BlueLeaks shows is that third-party IT providers need to be properly vetted for their internal security methods. While having an easy-to-update website is great, it needs to be secure and all accounts should use multi-factor authentication and other tools to ensure that only authorized users have access. You can read more about the leak and its relevance here in my post for Avast's blog.