The past month has seen some interesting developments in the fight against online disinformation and hate speech. First was the K-Pop campaign that diluted the impact of white nationalists by filling the various social media channels with fan videos using their hashtags. The K-Pop fans were also initially credited for buying up tickets to the Trump Tulsa rally. While we know only about six thousand people attended the rally, it is hard to state with any certainty who really got those tickets in the end.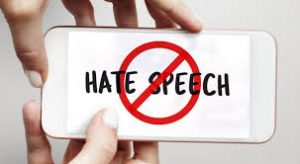 This is an effective way to blunt the impact of hate groups, because you are using the crowd to counter-program their content. What hasn't worked until now is forcing different social media platforms to ban these groups entirely. This is because a ban will only shift the haters' efforts to another platform, where they can regroup. As a result many new social platforms are popping up that are decentralized and unmoderated.
Megan Squire, a computer science professor whom I am distantly related, has studied these hate groups and documents how their members know how to push the limits of social media. For example, one group uses You Tube for its live streaming and real-time comments, then deletes the recorded video file at the end of their presentation and uploads the content to other sites that are less vigilant about their hate speech moderation.
Part of the problem is politics: tech companies are viewed as supporting mostly liberal ideologies and target conservative voices. This has resulted in a number of legal proposals. Squire says that these proposals are "naive and focused on solving yesterday's problems. They don't acknowledge the way the social media platforms are actually being gamed today nor how they will be abused tomorrow."
Another issue is how content is recommended by these platforms. "The issue of content moderation should focus not on content removal but on the underlying algorithms that determine what is relevant and what we see, read, and hear online. It is these algorithms that are at the core of the misinformation amplification," says Hany Farid, a computer science professor in his Congressional testimony this past week about the propagation of disinformation. He suggests that the platforms need to tune their algorithms to value trusted, respectful and universally accepted information over the alternatives to produce a healthier ecosystem.
But there is another way to influence the major tech platforms: through their pocketbooks. In the past month, more than 100 advertisers have pulled their ads from Facebook and other social sites. CNN is keeping track of this trend here. Led by civil rights organizations such as the NAACP and the ADL, the effort is called Stop Hate for Profit. They have posted a ten-point plan to improve things on Facebook/s various properties. It has been called a boycott, although that is not completely accurate: many advertisers have said they will return to Facebook in a few weeks. One problem is that the majority of Facebook business is from smaller businesses. Still, it is noteworthy how quickly this has happened.
Perhaps this effort will move the needle with Facebook and others. It is too soon to tell, although Facebook has announced some very small steps that will probably prove to be ineffective, if history is any predictor.