I have been a keen observer and sometimes participant of the eCommerce field since its very early days back in the late 1990s. Then the websites were wacky, the software shaky, and the tools touchy and troublesome. But somehow we managed to buy stuff online and Amazon and others have been raking in the dough every since.
In the beginning, IBM had its own NT-based eCommerce product that I reviewed back in 1999 for Windows Sources magazine. These suites of products had a lot of custom configuration, and really weren't very good. Since that point, IBM has built quite a business around Websphere and other tools. Another article about evaluating payment systems for eCommerce that I wrote for Internet.com back in 1999 described the sad state of affairs back then.
In those early days, I had fun assignments like trying to figure out how long it took staff from an online storefront to respond to my email queries. That seems fairly obvious, and there are still storefronts that don't respond quickly enough to their potential customers.
But one area where we have come the furthest has been in online payments. A good example is the recent Apple Pay announcements last month. As the NY Times points out, even though nary a dollar has been spent with this new system, vendors are jumping on board Just Because It Is Apple. Even eBay has gotten so worried that they are in the process of spinning off PayPal, something that they have resisted for years. Here is my analysis of Apple Pay published in Ricoh's blog.
If you are looking for some historical context of how payments have evolved, check out the following pieces that I wrote over the years:
From that last piece, I wrote:
Imagine how hard life with physical wallets would be if they acted like e-wallets. You would have to carry several different kinds of wallets around with you, since each store would accept different payment systems. You couldn't convert your dollars from one system to another without a great deal of work. And if you lost your wallet, you would be out of luck.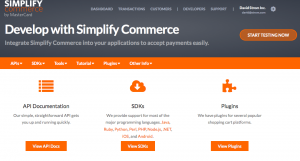 Today we have a lot of payment choices, including a little-known service from MasterCard called Simplify that is a web payment gateway that offers 2% rates (but only through software, no card reader yet.). We'll see if my predictions will come true or not once again.