As part of my tripping down memory lane and reading my archive, I naturally came across the dozens of articles that I have written over my career on wireless messaging. It made me think about how the industry has evolved so quickly that many of us don't even give this technology a second thought — we just expect it to be part of our communications package.
Now our smartphones have multiple messaging apps: Email, SMS, What's App, Skype, AOL IM, and Apple's iMessage, just to name a few of them that are on my phone. We flip back and forth from one to the other easily. When you add in the social networks' messaging features, there are tons more.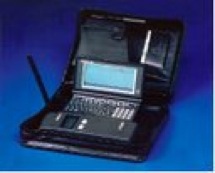 My first brush with wireless messaging was when Bill Frezza stopped by my office and gave me one of his first prototypes of what would eventually turn into the BlackBerry. It was called the Viking Express, and it weighed two pounds and was a clumsy collection of spare parts: a wireless modem, a small HP palmtop computer running DOS, and a nice leather portfolio to carry the whole thing around in.
The HP ran software from Radiomail Corp. The company was one of the first to understand how to push emails to wireless devices. Its innovations were never patented due to the philosophy of its founder, Geoff Goodfellow. Ironically, after Research in Motion, the company behind the Blackberry, went on to become one of the more litigious computer vendors, it had to pay $615 million to obtain the rights for patents for its device.
Now wireless has gotten so fast, it can be faster than wired connections. Cisco's latest networking report predicts that Internet traffic will carry more wireless than wired packets in a few years. And we have come full circle: with new desktop Macs, Apple has gone a bit retro on us. Now you can access iMessage from your desktop, which is great for those of us that want to type on regular keyboards, inside of with our thumbs or use Siri to compose messages.
So for those of you that don't recall where we have been, I have posted the original articles that I wrote about some of the early wireless messaging apps for some perspective on my blog. Here are some links to them.
Back then, BlackBerries weren't available, and Motorola ruled the roost. Pagers were in transition from simple one-way devices that would just display numerals to more interactive messaging devices. However, they were pretty unsatisfying: The one-way pagers worked because they were tiny, their batteries lasted forever, and they could be used by anyone including my nine-year old. The smarter devices were harder to use, they aet batteries for lunch, and they didn't always work without some specialized knowledge.
Back then, I gave up my laptop and tried to use just a smart(er) phone and borrowed PCs when I traveled. There were some early apps back then that could actually work.
The first messaging device to gain traction was the Palm Pilot, but we also had the Pocket PC too. This article was a piece of custom content for CDW that reviewed all the options available back then. For cellular data, you needed add-in radio cards.
How about AOL's IM running on a Palm i705? That was a pretty slick device, as this article can attest to.
Remember the Treo? I still have one somewhere in my closet. They were a combination of a phone and a Palm Pilot. Back then I wrote: "the Treo isn't as cool as the Sidekick, doesn't do iTunes like the Rokr, and isn't as addicting as a CrackBerry."
It isn't just texting during driving, but texting while doing something else that is at issue.By 2009, the notion of having a side conversation using a wireless device was very common.
What is your favorite wireless messaging device or app from the past?