The last time I bought a suit was several years ago, in advance of my daughter's wedding. Back in the 80s and perhaps 90s, I would wear a suit whenever I travelled or spoke at a conference. These days, not so much on either travel or suit-wearing. I actually bought two suits (whadda deal!) and I was pretty happy with the process until it came time to pay. My credit card was immediately declined. I certainly had plenty of credit limit (I think the total purchase was about $1000) but the algorithms used by my bank kicked back the transaction because it had been ages since I last bought a suit, or bought anything at a retail store for that amount of money.
This process to question my transaction is called risk-based authentication (RBA), and it has become quite common, particularly as criminals get better at compromising our accounts and as we continue to reuse our banking passwords that get phished and posted across the dark web. The banks have gotten better at investing in this tech so as not to have many false positive flags (such as my suit purchase) based on all sorts of factors. In my case, I probably still would have been challenged because I was at a location not close to my home and in a store that I hadn't been in before. But the RBA can incorporate all sorts of other factors, such as the hardware you are using on your phone (if that is involved in the transaction), whether your typing cadence has changed (such as someone else using your computer or using a clone of your phone number), or a pattern of multiple purchases that were made earlier that day or from "impossible travel" where multiple IP addresses that are located at great distances use the same login credentials (of course, you have to be careful someone isn't using a VPN here).
Speaking of impossible travel, back when I did travel internationally I had to remember to login to my banks and tell them where I was going. One time I forgot and my credit card dinner purchase was declined. Now most banks don't need you to do this, thanks to better RBA.
The three credit bureaus (Experian, Equifax and Transunion) have all bought various RBA vendors over the years (41st Parameter, Kount and Iovation, respectively). Both Lexis/Nexis and Mastercard have their RBA tech too (ThreatMetrix and NuData Security). What is interesting about this group is that they handle millions of financial transactions each day, or each hour, so they can spot fraud trends more quickly. RBA has quickly grown from some wonky security tech into the more mainstream precisely for this reason.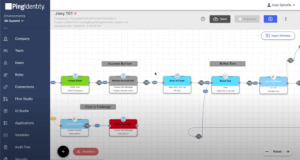 This week I wrote a story for CSOonline where I take a closer look at 12 different RBA vendors' offerings. I have studied these products for years, and am glad to see continued progress in their features and usability. One example is the latest offering from Ping Identity, called PingOne DaVinci. This is an identity orchestration tool that can be used to create automation routines using Visio-like flowchart diagrams. This is a big benefit, because setting up risk escalation scenarios using interlocking rule sets and policies can be difficult to debug.