I have written a few times about ways to prevent brandjacking. In this blog post for Network Solutions, I discuss the use of homoglyph or homograph attacks by cybercriminals. These attacks involve exploiting international domain names and the idea is simple to explain once you know a bit of Internet history.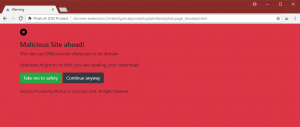 When the Internet was first created, it was based on using Roman alphabet characters in domain names. This is the character set that is used by many of the world's languages, but not all of them. As the Internet expanded across the globe, it connected countries where other alphabets were in use, such as Arabic or Mandarin. 
Several years ago, researchers discovered the homograph ploy, and since then all modern browsers have been updated to recognize the homograph attack methods of using "xn–80ak6aa92e.com" instead of "apple.com." I go into the details in my blog post and you can see an example of how a browser responds above.
There is an important lesson here for IT professionals: watch out for injection-style attacks across your web infrastructure. Every element of your web pages can be compromised, even rarely-used tiny icon files. By paying attention to all possible threats today, you'll save yourself and your organization a lot of trouble tomorrow.