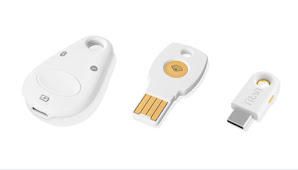 Multi-factor authentication (MFA) means using something else besides your password to gain access to your account. There are many ways to do this – some, such as texting a one-time PIN to your phone are less secure than others, such as using a $25 Google Titan security key (shown here) or the free Authy/Twilio smartphone app. The idea is that if your password is compromised (such as a reused one that has been already leaked in another breach), your account is still secure because you have this additional secret to gain access. Is MFA slightly inconvenient and does it require some additional effort to log in? Typically, yes.
After the Twitter hacks of last month, I took some time to review my own security settings, and found them lacking. This just shows you that security is a journey, and you have to spend the time to make it better.
I go into more details about how to best use MFA to make your social media accounts better protected, and you can read my blog post for Avast here for the step-by-step instructions.