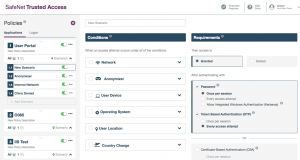 Thales SafeNetTrusted Access (STA) offers a compelling blend of security solutions that bridge the MFA, SSO and access management worlds in a single, well-integrated package. STA does this by offering policy-based access controls and SSO with very strong authentication features. These policies are flexible and powerful enough that you can address a broad range of access scenarios.
Because STA covers multiple security workflows, there are several places that it can fit into your overall data protection needs. Part of your own motivation for using this product will depend on the particular direction that you are coming from. What you need STA to do will depend on what you have already purchased and where your existing security tools are weakest.
If you presently use another SSO tool, or if you aren't happy with your existing identity management product, you might examine whether they can support or integrate with STA and use it as your principal identity provider. This will give you greater automation scope and move towards better MFA coverage for your consolidated logins.
If delivering MFA is your primary focus for purchasing a new identity product, STA should be on your short list of vendors. If you are rolling out MFA protection as part of a larger effort to secure your users and logins, then things get more interesting and the case for using STA becomes more compelling. For example, it can handle a variety of application authentication situations and be granular enough to deploy these methods for particular user collections and circumstances. Many older IAM products bolted-on their MFA methods with cumbersome or quirky integration methods or required you to purchase separate add-on products for these features. STA has had this flexibility built-in from the get-go and has a well-integrated MFA set of solutions.
If you presently use another vendor's authentication app or have a collection of hardware tokens that you are trying to migration away from, you might want to examine whether STA's MobilePass+ offers improvements to the user workflows that could increase MFA coverage across your application portfolio.
Thales SafeNetTrusted Access is available at this link. Pricing starts at $3.50 /user/month, which includes access management, SSO, authentication tokens and services support. A premium subscription which adds PKI MFA support is also available.
You can read my full report here. And here is my screencast video that points out the major product features: