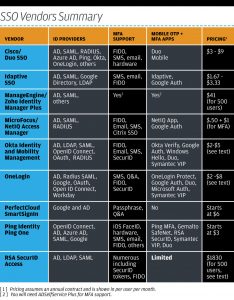 I have been reviewing single sign-on (SSO) tools for nearly seven years, and in my latest review for CSOonline, I identify some key trends and take a look at the progress of products from Cisco/Duo, Idaptive, ManageEngine, MicroFocus/NetIQ, Okta, OneLogin, PerfectCloud, Ping Identity and RSA. You can see the product summary chart here.
If you have yet to implement any SSO or identity management tool, or are looking to upgrade, this roundup of SSO tools will serve as a primer on where you want to take things. Given today's threat landscape, you need to up your password game by trying to rid your users of the nasty habit of reusing their old standby passwords.
I also look at five different IT strategies to improve your password and login security, the role of smartphone authentication apps, and what is happening with FIDO.