The days when users are required to remember numerous complex passwords may be coming to an end, as single sign-on (SSO) technologies are finally taking hold in state and local agencies. SSO tools provide a number of valuable security benefits. Among them are to better bridge the gap between cloud and on-premises servers, applications and services and they help agencies prevent the proliferation of bad passwords. You can read more details in this first piece for StateTech magazine.
Several factors have brought this about: better technology, a wider selection of identity management tools, lower-cost SSO alternatives and a heightened awareness of massive password breaches. State and local agencies should keep several important factors in mind as they consider SSO solutions, as I wrote about in a second article for StateTech magazine recently.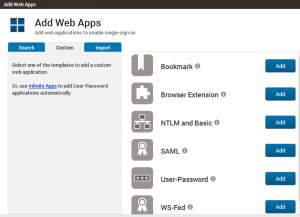 My most recent comparative review for Network World on SSO tools was done in 2015 and gave Centrify (shown here) and Okta the highest marks.