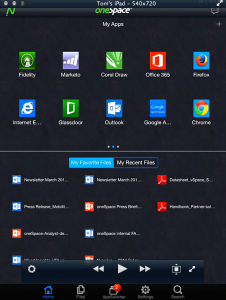 The days have long been over when IT could dictate what kinds of endpoint computing devices should be in their end user's hands. But the notion of "bring your own device" (BYOD) has taken hold in the past few years means having tablets and smartphones perform truly useful business-related work. Now the particular endpoint, whether it is a desktop or a mobile, no longer matters. Indeed, mobiles are being used more and more as the main endpoint browsing device and as the default computing device.
There are some big benefits for IT with BYOD: they don't have to invest time in their "nanny state" approach in tracking which users are running what endpoints. Or have to research which mobiles will be blessed by the corporate purchasing department. Instead, they can free up these staffers to improve their apps or deliver better service to their end users.
For these reasons, BYOD has been well received. Users don't want to wait on IT to finish a requirements analysis study or go through a lengthy approvals process: they want their mobile apps here and now. However, the small business market has been largely a poor stepchild and not much of a beneficiary to the BYOD revolution. The SMB IT manager, where he or she exists, doesn't have a lot of great choices to support improving the productivity of their tablet users. The challenge is that users these days want something more than just processing emails on their mobile devices: they want to be a full participant in sharing files, co-editing documents and presentations, and running corporate apps that in the past have been largely geared towards Windows endpoints.
The IT manager is faced with a series of options to support these new and more advanced tablet users. Each solution makes some compromises in terms of document fidelity, overall security, collaboration features and ease of access. Document fidelity is defined as being able to work on common Windows tools such as Word, PowerPoint, etc. on a tablet and see the same fonts and features as you would see on a traditional Windows PC. Overall security means having policies that can restrict who has access to particular files and apps on the mobile devices, or completely sandbox a business environment from one's personal app collection. You also want to be able to collaborate on documents among multiple authors, so that they can see in real-time what changes their colleagues have made to their documents. Finally, ease of access means being able to obtain particular files without having to go through many steps or multiple and complex authentication methods.
Over the past several years, numerous vendors have tried their hand at fixing these issues and there are a number of products and services that can be combined together. There are cloud-based storage services or office app suites, custom connection apps that allow tablets to access, transfer and view files and remote terminal sessions that can bring up Windows desktops and their apps. There are also various mobile device management products that can sandbox email and app access.
One other solution involves creating an entire workspace on a tablet, sometimes as a Web service. I recently had a chance to do some custom consulting work for such as solution from NComputing called oneSpace, which compliments these products in a way that you can access both network file shares as well as cloud apps, and do so in a way that seems natural for a tablet or touchscreen user. You can see a short screencast video introduction to how this works here. Workspaces could be the future for corporate tablet usage.