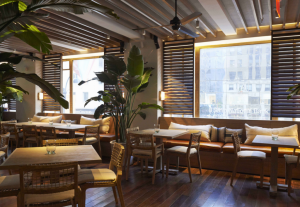 You can't download your dinner, but you will order food, pay checks, and do much more with your smartphone. That is one of the conclusions of a paid custom report that Ira Brodsky and I have published this week called Good Food and Drink and Connected Technology, 2014-2019.
The days when restaurants could rely exclusively on good food, an enjoyable ambiance and word-of-mouth advertising are quickly coming to an end. More and more restaurants are discovering that they must become better connected and use various consumer-facing technologies such as websites, social media networks and mobile apps to get a leg up on their competitors.
In our report, we looked at the largest of the national restaurant chains and analyzed their behavior, social media usage, and evaluated their digital strategies and implementations and found several trends, including:
Consumer-facing connected technology is taking off in the restaurant chain business. Revenue from online ordering, digital gift and loyalty cards, and mobile payments will soar to $90 billion by 2019. No retailer can afford to ignore this trend.
Our report shows how restaurant chains can improve the information content, functionality, and overall quality of their websites. For instance, restaurants who employ responsive web designs can enable access from a wide variety of devices. However, restaurant chains must never lose sight of the fact that the best measure of their website is how well it promotes their food and dining experiences.
Social media is a powerful new channel for interactive advertising and market research. Our report explains how restaurant chains can achieve greater success by better allocating social media resources, monitoring how people respond, and fine-tuning their social media programs.
Most restaurant chain mobile apps don't work reliably and merely duplicate information and features found on the restaurants' websites. Our report points the way to mobile apps that are better designed, tested, and maintained.
There are lots of other conclusions in our report, You can download a portion of our executive summary and view the entire table of contents, as well as browse a table of the leading restaurant VARs and SI vendors from the report's website here. The report is available for purchase, too. And there is this piece on Restaurant Technology on loyalty programs.