(This post was originally written in 2011, then updated in 2018 and then again in 2021.)
With the wall-to-wall 911 coverage this week, I wanted to take a moment to go back in time to that fateful day ten years ago. Back then, I had just released my second book on home networking and was about to embark on a series of book tours to promote it. The tour never happened. I was living on Long Island and that morning I was out on a bike ride to the end of the peninsula that had a view of the Manhattan skyline. I didn't know that I was seeing the collapse of the buildings from my vantage point 25 miles away. I lost two acquaintances that day; Tom Kelly, a firefighter that I had done several charity bike rides and Mark Bingham, who was on the plane that went down in Pennsylvania. It took me months to visit the site, and I posted this entry in March 2002. I thought you might want to read what I had written then:
I went down to the former World Trade Center site this week, for the first time since 9/11. It was a dark and stormy night, with an almost surreal atmosphere of ground fog and occasional rain showers. A utility pipe venting steam into the street nearby added to the almost movie-set-like feeling around the dark and deserted streets.
I have been reluctant to return here, an area that I visited often on business and tourist reasons throughout my tenure as a New Yorker. The twin towers were a favorite destination for my family for showing off the city to out of town guests, as well as a place for me to go to power breakfasts for various computer industry events.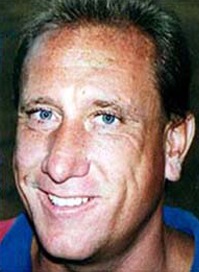 I have been back in the neighborhood several times since the disaster, not as a tourist but as a volunteer to help prepare meals for the construction and police crews working there. And while many friends of mine went to see the site in the days after the disaster, I couldn't bring myself to go. I didn't want to see what had happened. After losing Tom R. Kelly from Ladder 105, I didn't want to approach the area without some further reflection and respect for all of those who perished. It was enough for me to view the skyline from afar, and note the gap, like some extracted tooth from my child's smile.
But this week I was ready to see what things looked like, and pay my respects. I had dinner with a friend of mine who lives in Battery Park on a high floor, with huge picture windows facing the site. He and his wife watched the buildings crumble that day, and they offered me to come to their apartment and see the view for myself. Until this week, I wasn't really ready to take them up on their offer.
But once I got to their place, I was glad I came. The foggy evening highlighted the twin searchlight banks that have been setup as a memorial a few blocks away from where the actual towers were located. Their lights cast an eerie glow around the neighborhood, and from above it seemed like you were looking down onto the tops of the towers themselves — the same square patterns of the buildings external skins have been reproduced in the lights. It is a fitting tribute to the people who lost their lives that day, to the strength and determination of the people of this country, and to two huge buildings that are gone forever.
Ironically, their apartment building stands on the landfill that was removed from the original construction site to build the trade center complex many years ago. The site and nearby streets were all under the Hudson River waterline, and to get down to the actual bedrock to build the site required creating this huge "bathtub" retaining wall to keep the water out. The wall is all that remains of that effort, and it is a massive task to ensure its structural integrity, now that the buildings and vast underground complex have been removed.
From my friends' apartment, you could see the movement of the construction vehicles as workers continue to excavate the site, and they are still working round the clock. There was just one area left — the area of the compressed south tower. The rest was a big hole, reminiscent of the Tyco crater scene in the movie "2001," lit up with its own array of lights. Like the movie, we are still searching for answers to why this happened. Instead of an alien life, we have other humans who were so determined to harm thousands of us.
I still have lots of complex feelings about the events around 9/11, and I am still sorting them out — as I am sure, you are too. Looking at the lights, I remembered my friend's Tom's contribution, and honor his memory and his fellow firefighters and the many others who didn't make it that day.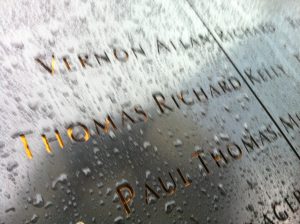 NB: I wrote this many years ago, and in December 2018 I returned to the site, now a bustling tourist location with the two memorial pools and a new museum along with the tall Freedom Tower dominating the site. I took this photo of Tom's name etched into the memorial on another rainy day. Just as I did, a blast of wind sent a stream of mist up in the air and enveloped our family group that had come to see the memorial. I think Tom was crying with us.
N.B #2: 
I am writing this in 2021. My posts from the past above still bring back some raw memories. There are also a flood of memorial films for this particular anniversary. I have been watching the NatGeo/Hulu series, which is an amazing piece of journalism, linking images of many of the heroes from that day with contemporary interviews. One of them is an interview with Mark Bingham's mother. and highlights his role in thwarting the hijackers. The series shows the level of heroism from both those who survived and those who perished.
The passage of time has claimed another man named Tom W. Kelly, a firefighter from the Bronx Ladder 15 who developed cancer from his work trying to rescue people trapped in the rubble of the trade center. This brings the total of Toms to three that were claimed from 9/11.