Network World review: Email encryption products are improving
Email encryption products have made major strides since I last looked at them nearly two years ago in this review for Network World. This week I had an opportunity to revisit these products, and found that they have gotten easier to use and deploy, thanks to a combination of user interface and encryption key management improvements. They are at the point where encryption can almost be called effortless on the part of the end user.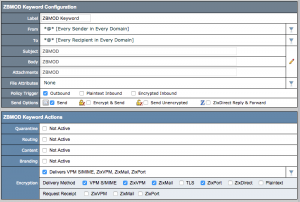 I reviewed five products: the two that I reviewed in 2015 (HPE/Voltage Secure Email and Virtru Pro) and three others (Inky, Zix Gateway, and Symantec Email Security.cloud). The overall winner was Zix (shown here). It was easy to install and manage, well-documented, and the encryption features were numerous and solid. The only drawback was that Zix lacks a separate mobile client to compose messages, but having a very responsive mobile web app made up for most of this issue.
You can read the complete review in Network World here, and you can watch a screencast video comparing how three of the products handle data leak protection: