I have known Gary Bolles for decades. Back when I was putting together the first editorial staff for Network Computing magazine, Gary was one of my early hires. He had a curious resume, made even more so by the fact that his father was infamous for the "Parachute" career counseling books. He was a quick learner — so quick that when I left the magazine to start my own consulting business he was my pick to succeed me, and then went on to found other publications and eventually his own consultancy. He has written his first book, and it complements the family business by showing how we have evolved in how we approach work. His thesis is that we are in a new era, where the old rules of pre-learning isn't sufficient, and we need to become lifelong learners with a deep portfolio of experiences, interests and job-like skills.
Part of the new rules is directed towards managers, who have to transition from being the "sage on the stage" to the "guide on the side."
Like the Parachute series, there is assigned homework, which is just as annoying as when I read Bolles Sr. books back in the day. The model canvas can be found on Gary's website here.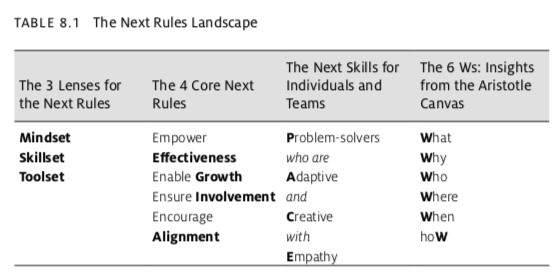 Most of his book is focused on adjusting three frames of reference for both individuals and the new companies that they work for: Mindset, toolset and skillset. You will need to adjust your mindset to handle what the world needs, what you love and are good at, and what you can actually be paid hard cash money for.) The Japanese call this Ikigai. You will need to adopt what he calls "flash problem solving" skills with an ad hoc group he calls the coalition of the willing. This may mean "unbossing" yourself, which sounds scary but millions of gig workers have already succeeded.
Another concept is one that I wrote about last week, how to become a life-long learner and what this means for retirement.
There are a lot more thought experiments and Venn diagrams to illustrate his points. If you are ready to make the jump and sign on to this new way of life, you might find the book a useful manual. Bolles book is available on his website, and if you are still unsure you might want to sign up and watch a couple of his classes on LinkedIn Learning ($30/mo).