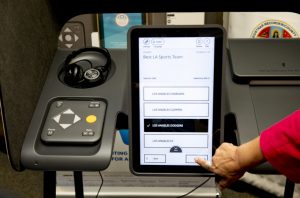 Last week Super Tuesday brought many of us to the polls to vote for our favorite candidate for President. And while voting went smoothly in most places, there was one major tech failure in Los Angeles, which saw the debut of new voting machines. Let's compare what went wrong in LA with the earlier problems seen during the Iowa caucuses.
In our earlier blog, I brought you up to date with what happened with the Russians hacking our 2016 and 2018 elections. But the problems witnessed in Iowa and LA are strictly our own fault, the result of a perfect storm of different computing errors. For Iowa, the culprit was a poorly implemented mobile vote count smartphone app from the vendor Shadow Inc. For LA, it was a series of both tech and non-tech circumstances.
I go into details about each situation and what we've learned in this post for Avast's blog.