For the past three years, researchers at Oxford University have been tracking the rise of government and political party operatives who have been using various social media tools as propaganda devices. Their goal is to shape and undermine trust with public opinion and automate dissent suppression. This year's report is chilling and I urge you to read it yourself and see what you think. It shows how social media has infected the world's democracies on an unprecedented scale.
The researchers combed news reports and found evidence of what they call "cyber propaganda troops" in 70 different countries, with the most activity happening in Russia, the US, Venezuela, Brazil, Germany and the UK.  This is a big increase in the number of places where they found these activities a year ago. In 44 countries, they found evidence of a government agency or members of political parties using various automated tools to help social media shape public attitudes. "Social media has become co-opted by many authoritarian regimes. In 26 countries computational propaganda is being used as a tool of information control." Azerbaijan, Israel, Russia, Tajikistan and Uzbekistan have taken things a step further: there student groups are hired by government agencies to use digital propaganda to promote the state's ideology.
You would expect that these techniques would be employed in dictatorships and in countries with less than stellar press freedoms and democratic records But what is interesting about their study is the few places that we would consider democracies where they didn't find any evidence of any systematic social media tampering, such as in Canada, France, and Norway. The authors don't say why this is the case, whether from a lack of research resources or because those places haven't yet gotten on the state-controlled social media bandwagon.
"Until recently, we found that China rarely used social media to manipulate public opinion in other countries," they state in their report. Prior to this year, China focused on manipulating its home grown social media platforms such as WeChat and QQ. That has changed, and now Chinese state-sponsored agencies are branching out and can be seen operating in other parts of the world, using Facebook and Twitter. "China is turning to these technologies as a tool of geopolitical power and influence."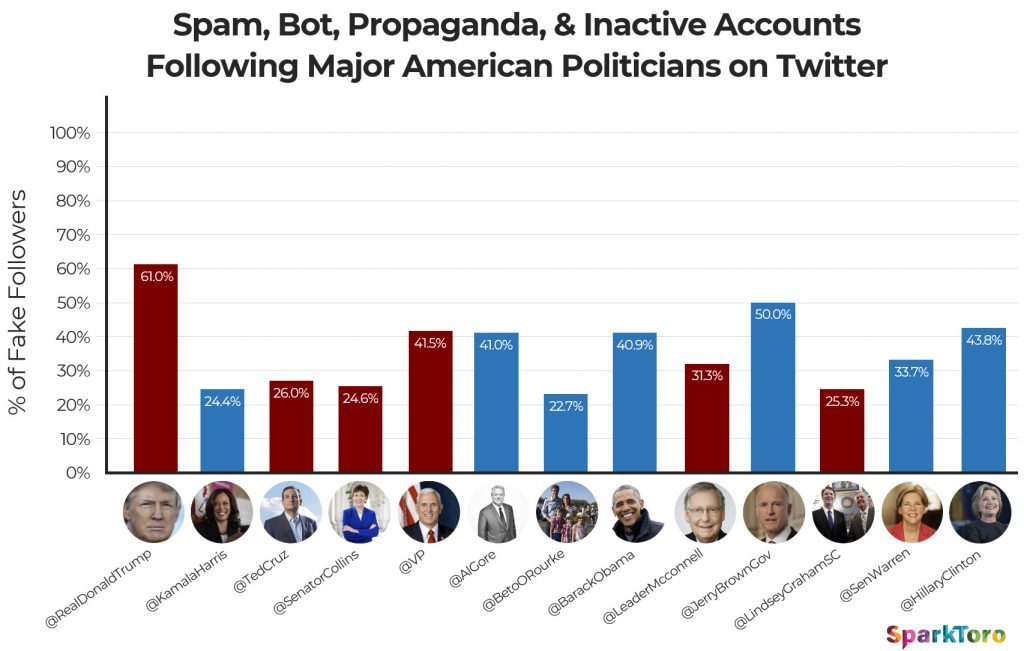 One thing the Oxford researchers didn't examine is how the practice of using fake followers of major political figures has spread. This analysis was done by SparkToro. As you can see in the above graphic, Donald Trump and Jerry Brown have half or more of their Twitter followers by bots and other automated programs. There are other political figures elsewhere that have high fake proportions too.
It is sadly ironic that the very tools that were created to improve communications and bring us closer together have been so successfully subverted for just the opposite purposes by various governments. And that these tools have become mainstream elements in so many places around the world.