NB: I updated the information for locations in my St. Louis neighborhood in this 9/2021 post for Nicki's blog here, including current costs and internet speeds.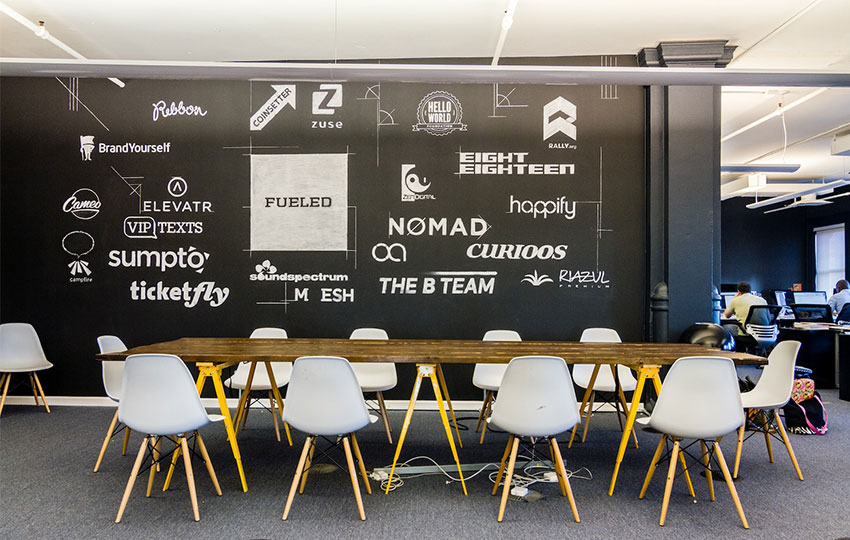 There are more than 20 different coworking places in the St. Louis metro area where I live. I have been to many of them, even though I have my own dedicated office. Why? Because I want to be a part of the startup community and that is where many of them work. The spaces also are great meeting places.
Coworking spaces are useful for several reasons. When you travel, you have a place to set your laptop down and a nearby bathroom. If you just need a space for a few days or a week, you don't have to go through the hassle of a monthly office rental. And if you have outgrown your dining room or spare bedroom in your home, and want something other than the local coffee shop, it might be time to investigate the local co-working scene.
There are a wide variety of operators, from the global, multi-city ones such as Spaces,  WeWork and Industrious to smaller, one-off locations that are quirky and anything but corporate. Finding the right one can be a chore, but you should take the time to make sure it matches your needs.
Why a chore? When you begin your research, you will find out that it is hard to track down exactly what you will be paying for renting an office. This is a combination of factors: First, occupancy varies widely, and many places charge for different sized offices. Rates can also vary depending on how many people will be housed in any given office, although some places don't care (within reason). Many of the operators want you to come in person to check things out, so they can give you the hard sell. So my first suggestion is you should make sure you know the costs and contracts up front. Here are some other tips:
Understand whom you will be working next to. Are you interested in meeting people like you or unlike you? The choice is up to you. Some have private offices, some have shared private offices, and most have bullpen-style tables where several people work at close quarters. Make sure you understand what your actual space will entail.
Check out their vibe and décor. The spots also vary on their vibe, and that will be the hardest thing to pin down if you are looking to plant yourself in one of them. Some are more intimate, which could work or not depending where on the introvert/extrovert scale you are. Lots of them have a Scandinavian design, and some could range to the very artsy funk, which could appeal to some. Some are enormous, such as Chicago's 1871 that is located on the top floor of the Merchandise Mart. Some are small enough to just house a few people.
What are the amenities besides a desk and Wifi? With some places, you pay extra for printers, coffee, a gym membership, using conference rooms, having a live human secretary to answer your phone, having a dedicated postal mailbox and a dedicated office phone number. You may not care or need any of these things. Take the time to figure out what is important to you and what that will do to the ultimate rental price.
Where are you going to get lunch? This isn't so silly a question. Some places are located in suburban office parks and you have to travel some distance to find food. Others are in downtown areas or in walkable neighborhoods.
Can you try before you rent? One of the places near me offers a free day pass to check them out. But they also offer the most flexible pricing and usage plans: you can rent an office for a single day or a year, and there are a wide variety of floor plans and even an interesting hybrid shared but private office that has a locked door but can house a dozen people sitting at study carrels. Other places may not be as flexible or offer a complete array of rental terms. Some can be useful just for temporary team conference meetings too.
How quiet or noisy are the spaces? In my travels around to these places, many people worked with headphones on to isolate themselves and concentrate. You may want to check this out if the ambient sound level is important to you. Of course, the noise level varies depending on how many people are there on any given day.
Do you need 24×7 access to your office? Some of the properties offer this, some don't, some charge extra if you want to enter after normal work hours. If this is critical, make sure you ask for the details.
Are you a party person? Some try to foster more of a sense of community with after-hours events and lectures. Others are strictly utilitarian.
Do you really need your own office? Many of us can work with a laptop and a cellphone and not much more. If you need a lot of stuff as part of your job, you need a private office to house it all .Some places have lockers that you can store your stuff in as part of their rental fee.
Will you be going to your office more often than not? If you are going to be out and about, or only in town occasionally, then having one of these spaces could be economical.
Is parking a hassle? Some places have free parking or include in their rental fees, others you are on your own or pay extra.
Does the place have arrangements for co-working in other cities? Some of the larger operators, such as WeWork and Spaces, offer complementary rentals in other cities in their networks.