One of my favorite NY Times technology stories (other than, ahem, my own articles) is one that ran more than ten years ago. It was about a supposedly anonymous AOL user that was picked from a huge database of search queries by researchers. They were able to correlate her searches and tracked down Thelma, a 62-year old widow living in Georgia. The database was originally posted online by AOL as an academic research tool, but after the Times story broke it was removed. The data "underscore how much people unintentionally reveal about themselves when they use search engines," said the Times story.
In the intervening years since that story, tracking technology has gotten better and Internet privacy has all but effectively disappeared. At the DEFCON trade show a few weeks ago in Vegas, researchers presented a paper on how easy it can be to track down folks based on their digital breadcrumbs. The researchers set up a phony marketing consulting firm and requested anonymous clickstream data to analyze. They were able to actually tie real users to the data through a series of well-known tricks, described in this report in Naked Security. They found that if they could correlate personal information across ten different domains, they could figure out who was the common user visiting those sites, as shown in this diagram published in the article.
The culprits are browser plug-ins and embedded scripts on web pages, which I have written about before here. "Five percent of the data in the clickstream they purchased was generated up by just ten different popular web plugins," according to the DEFCON researchers.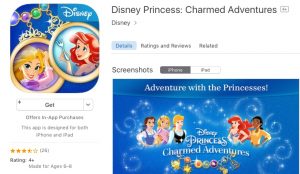 So is this just some artifact of gung-ho security researchers, or does this have any real-world implications? Sadly, it is very much a reality. Last week Disney was served legal papers about secretly collecting kid's usage data of their mobile apps, saying that the apps (which don't ask parents permission for the kids to use, which is illegal) can track the kids across multiple games. All in the interest of serving up targeted ads. The full list of 43 apps that have this tracking data can be found here, including the one shown at right.
So what can you do? First, review your plug-ins, delete the ones that you really don't need. In my article linked above, I try out Privacy Badger and have continued to use it. It can be entertaining or terrifying, depending on your POV. You could regularly delete your cookies and always run private browsing sessions, although you do give up some usability for doing so.
Privacy just isn't what it used to be. And it is a lot of hard work to become more private these days, for sure.