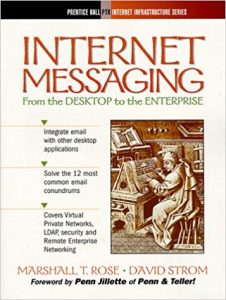 As you loyal readers know (I guess that should just be "readers" since that implies some of you are disloyal), I have been using and writing about email encryption for two decades. It hasn't been a bowl of cherries, to be sure. Back in 1998, when Marshall Rose and I wrote our landmark book "Internet Messaging," we said that the state of secure Internet email standards and products is best described as a sucking chest wound." Lately I have seen some glimmers of hope in this much-maligned product category.
Last week Network World posted my review of five products. Two of them I reviewed in 2015: HPE/Voltage Secure Email and Virtru Pro The other three are Inky (an end-to-end product), Zix Gateway, and Symantec Email Security.cloud. Zix was the overall winner. We'll get to the results of these tests in a moment.
In the past, encryption was frankly a pain in the neck. Users hated it, either because they had to manage their own encryption key stores or had to go through additional steps to encrypt and decrypt their message traffic. As a consequence, few people used it in their email traffic, and most did under protest. One of the more notable "conscientious objectors" was none other than the inventory of PGP himself, Phil Zimmerman. In this infamous Motherboard story, the reporter tried to get him to exchange encrypted messages. Zimmerman sheepishly revealed that he was no longer using his own protocols, due to difficulties in getting a Mac client operational.
To make matter worse, if a recipient wasn't using the same encryption provider as you were using, sending a message was a very painful process. If you had to use more than one system, it was even more trouble. I think I can safely say that these days are soon coming to an end, where encryption is almost completely frictionless.
By that I mean that there are situations where you don't have to do anything, other than click on your "send" button in your emailer and off the message goes. The encryption happens under the covers. This means that encryption can be used more often, and that means that companies can be more secure in their message traffic.
This comes just in time, as the number of hacks with emails is increasing. And it is happened not only with email traffic, but with texting/instant message chats as well. Last week Checkpoint announced a way to intercept supposedly encrypted traffic from What's App, and another popular chat service Confide was also shown to be subject to impersonation attacks.
So will that be enough to convince users to start using encryption for normal everyday emailing? I hope so. As the number of attacks and malware infections increase, enterprises need all the protection that they can muster and encrypting emails is a great place to start.
What I liked about Zix and some of the other products that I tested this time around was that they took steps to hide the key management from the users. Zimmerman would find this acceptable, to be sure. Some other products have come close to doing this by using identity-based encryption, which makes it easier to on-board a new user into their system with a few simple mouse clicks.
I also found intriguing is how Zix and others have incorporated data loss prevention (DLP) and detection into their encryption products. What this means is that all of these systems detect when sensitive information is about to be transmitted via email, and take steps to encrypt or otherwise protect the message in transit and how it will ultimately be consumed on the receiving end.
DLP has gone from something "nice to have" to more essential as part of business compliance and data leak hacks, both of which have increased its importance. Having this integration can be a big selling point of making the move to an encrypted email vendor, and we are glad to see this feature getting easier to use and to manage in these products.
Finally, the products have gotten better at what I call multi-modal email contexts. Users today are frequently switching from their Outlook desktop client to their smartphone email app to a webmailer for keeping track of their email stream. Having a product that can handle these different modalities is critical if it is going to make a claim towards being frictionless.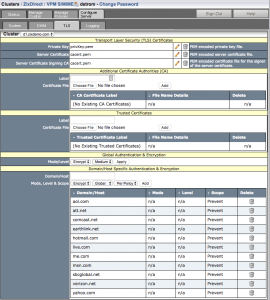 So why did Zix win? It was easy to install and manage, well-documented and had plenty of solid encryption features (see the screenshot here). It's only downside was no mobile client for composing encrypted messages, but it got partial credit for having a very responsive designed webmailer that worked well on a phone's small screen. Zix also includes its DLP features as part of its basic pricing structure, another plus.
We have come a long way on the encrypted email road. It is nice to finally have something nice to say about these products after all these years.