In my 2013 review I looked at several different password managers, some suitable for enterprises and some primarily for consumers. Since then the field has ballooned and there are now more than two dozen different products on the market. As a data point, even the popular TV show "Shark Tank" evaluated a password manager startup in its current season.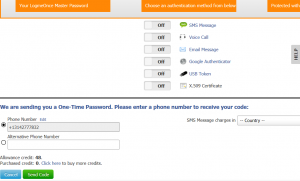 For my own current season, I looked at ten tools: Dashlane for Business, Keeper Security's Enterprise, Lastpass' Enterprise (now part of LogMeIn), Lieberman's Enterprise Random Password Manager, LogMeOnce Enterprise Edition (shown at right), Manage Engine's (now part of Zoho) Password Pro, Agilebits' 1Password for Teams, StickyPassword, SplashID's TeamsID, and SingleID. The two strongest products in terms of protecting individual user logins are Lastpass and Keeper.
You can read the full review here, along with a description of some larger issues and overall trends with using these tools.