I admit it; I have fallen out of the habit of reviewing my various stats on my websites and other content-oriented places. For many years I dutifully kept track of how my posts were doing, who was commenting, where backlinks were coming from, and so forth.
For some reason, I stopped doing this in the past year. Maybe it was just being lazy, maybe because I had gotten very busy with a lot of very interesting assignments. Maybe it was just old age: I have been writing stuff for more than 25 years, after all.
Well, all of those (and others) aren't valid excuses. You need to check your stats, and check them regularly. There are lots of interesting things hidden in them that you might not realize, and some of these things can help you delivery better content, or target new audiences, or figure out what you are doing right (and do it more often) or wrong (and avoid or improve).
WordPress' Jetpack delivers an annual email summary of your blog and its posts: this is a very useful reminder that you need to dive in deeper and see what is going on with your blog (or blogs, in my case). And Slideshare.net also has some great analytics. This service is a wonderful place to post PowerPoints of my presentations. Looking at these analytics, I would have found out:
Influence can be found in odd places. A post that I wrote for SoftwareAdvice.com about real-time retail store tracking was picked up by a blogger for the point-of-sale system Vend.com, that brought a bunch of visitors to my site back in the spring when I was quoted by their blogger. Could have been an opportunity to talk more about the subject.
Don't knock the long tail. I am still the leading expert on a very obscure Windows error message: if you were to Google "Windows Media Player error c00d11b1" you will see my post in the first ten or so results. The post has received more than 380,000 views in the more than eight years since I wrote it, and it is still getting comments on my blog and links in the Microsoft forums too. Why is this important? All this traffic on a very specific subject can help raise your Google ranking, and also provide an entry point into your content ecosystem if you manage it properly.
My influence beyond North American borders is somewhat quirky. The second most-visited place of origin for my Slideshare.net account is Ukraine, with about half the views from the US over the past year. Again attesting to the very long tail, a good chunk of these views came from a presentation that I posted five years ago on how to set up your first blog and business email. (That kind of makes sense.) For my blog, other popular countries of origin for my visitors were India and Brazil. Don't forget the rest of the world when you are posting your content and widen your perspective to engage more of these readers.
Twitter and Facebook were both important traffic drivers for my blog over the past year. This emphasizes how critical your own social media accounts are and how you need to cross-link posts among them. Combined the two were equal to the traffic brought in from Google organic searches, which is another important element in referring traffic too. Don't just post blog entries on your blog: I have begun cross-posting my content on LinkedIn Pulse and Medium and they are getting a fair share of views there too. The analytics for those sites could be better though: for example, Medium only allows you to look at month-long intervals at a time and Pulse will only send you static results in regular email summaries.
There are lots of Twitter analytic tools, and some that are quite pricey. One that I like that has a free version is TwitterCounter, including who unfollowed and followed you over time. For example, I got excited this week to see that the actor Taye Diggs followed me (he has been following my wife's Tweets for some time) but our local mayor dropped me (oh well). You can see the kind of graphs it produces such as this, which to me indicate a fairly steady stream of new followers replacing the drop-offs with a slow overall growth: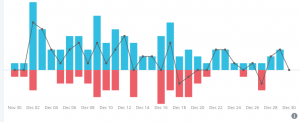 Happy new year and may your stats encourage you to deliver better content in 2015!