NOTE: This post was written in 2014. Since then Meetup has sadly removed this feature.
Perhaps you know already about Meetup.com, the site that anyone can organize any group on any topic. I have not been an organizer but have attended numerous meetups in St. Louis, and used the site to research people that I wanted to connect with when I traveled to other cities around the world in the past. Today Meetup organizers are getting a new incentive: the ability to add a "chip in" button so that members can donate cash to the group.
"We want to make it easy for supportive members to chip in on costs and help make Meetup groups even better," according to a post on their blog this morning.  As of today, any group or event organizer can quickly add this feature. It is a pretty bold experiment and perhaps the widest expansion of crowdsourcing to date. To give you an idea of the scope of this work, there are nearly 200,000 meetups around the world organizing half a million events every month.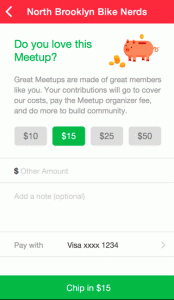 The way it works is simple: a Chip In button on the Meetup home page will bring up a dialog box asking for your contribution, as shown here. You enter your payment information and you are done. It works on both web browsers and phone apps.
Meetups are a pretty low-budget affair, for the most part. Many organizers pay for the costs of running the meeting (beer and pizza are the usual enticements) out of their own pockets, or else try to find a corporate sponsor (such as the company who is hosting the meeting at their facilities), but the Chip In feature formalizes this and makes it easier to raise funds. About 2,000 Meetups have already been using the feature and have found it very helpful, as you can imagine. While Meetup.com won't reveal how much money has been collected, I hear it is quite impressive.
My long-time colleague and friend Tristan Louis has been heading up this effort and he told me, "We're trying to carefully introduce ways to help the organizers without requiring them to ask the uncomfortable questions surrounding money. We know that organizers often get stuck being the ones paying for the pizza and we want to change that dynamic by having everyone chip in." Contributions aren't mandatory, but we'll see if the psycho-dynamics of the meetup changes as a result of them.