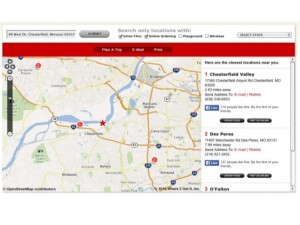 Who runs the most social restaurant chain? As part of a report that Ira Brodsky and I are working on, we examined the social media accounts of the top 100 restaurant chains and scored them based on engagement and popularity. Not surprisingly, Starbucks and Subway are social media superstars with millions of their customers engaged. Both are big on Facebook, Twitter, and YouTube. Starbucks is also big on channels that most competitors have barely touched: Instagram, Foursquare, Google+, and Pinterest. Honorable mention also goes to Jamba Juice and Hooters, who both have solid Tumbler, YouTube, Foursquare, and Twitter followings.
While the vast majority of the top 100 chains have corporate accounts with Facebook, Twitter, and YouTube, there is a big difference between how the top ten chains use social media and how those near the bottom of this list use these networks. The top ten chains allocate more resources to social media, publish more tweets and posts, and employ social media in a more strategic fashion.
While most restaurant chains are just getting started with Tumblr, California Pizza Kitchen is way ahead of the pack with several hundred posts. Considering that the biggest chains have millions of followers on Facebook, there is plenty of room for growth on these other social networks.  VARs looking to get business in this area should widen their expertise and cover all social media channels. VARs also have an opportunity to help expand a brand's footprint beyond Facebook and Twitter into these other networks too.
Take a look at the difference between the Facebook page of Applebee's and Cici's Pizza to get an idea of the range of social media engagement with these two large restaurant chains. Applebee's has more than 5 million "likes" to its page, but more than double that number of people have visited, which is impressive and shows a solid level of engagement. Cici's has more than a million "likes" but only a very small percentage of this figure are "talking about" them or have visited the page, which is an example of very limited engagement. One of the reasons is that Applebee's is frequently posting new ideas and promoting various new menu options on its page, reaching out to selected customer groups and in general keeping its page fresh and interesting, just like it is doing with its stores' menus.
Still, many restaurants have gotten late starts on social media usage, but that's okay: it is relatively easy to "catch up" in this market. VARs can help focus social media campaigns, select the right kinds of social media management tools, and train the restaurant back office staff to take on this responsibility.
Speaking of social media management tools, this area is ripe for VARs to evaluate and recommend the right ones. There are more than 100 different tools, and more are being created daily it seems. Start with a review of 8 of them that I wrote for Network World last year here. (Applebee's uses Expion, one of the 8 reviewed, for its social media management.) These tools are essential: failing to properly handle a bad review on social media can cause a restaurant to lose thousands of dollars of business. Failing to build loyalty via social media can have similar effect on the bottom line. Social media tracking tools designed specifically for restaurants are also available from Sociallybuzz, Main Street Hub, and Fishbowl.
When it comes to using YouTube, videos posted by Taco Bell, Hooters, Del Taco, Panera, and Chipotle have gone viral.  Chipotle's very creative original animated video, The Scarecrow, has been viewed more than 12 million times, and made YouTube's 100 Most Viewed list for 2013. VARs can help develop original video content that isn't an out-and-out commercial for this medium.
As you can see, there is a big opportunity and dare we say a hunger for social media strategy in the restaurant business.