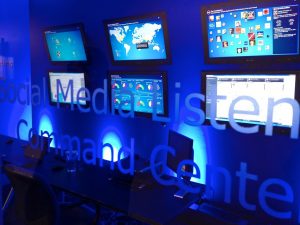 The first rule about getting involved in social media is being a good listener. And probably no one does this as well as Dell. The computer giant has been slowly improving its listening abilities, and late last year formally opened its Social Media Listening Command Center at its headquarters outside of Austin, Texas.
The listening room is just one of many social media marketing strategies that Dell is using. The company has numerous Twitter accounts that broadcast special prices, a series of Facebook pages with user-generated content promoting its products, and formal ways to incorporate customer-based suggestions into the next round of product features.
While the room is a sexy cross between an air traffic control tower and a TV production studio, it really is just a room. The more important aspects aren't to be found in the room, to the point where when I asked Manish Mehta, Dell's vice president for social media and community, how many people worked for him he couldn't tell me. And he wasn't just being coy. "The biggest misnomer is that you have to be physically present in the room to listen to the social Web," he said. "We have others located around the company and indeed, around the world who are monitoring and participating in these conversations."
The social media listening and command center may or may not be appropriate for how marketing is done in other companies. It depends how they are organized or want to organize for social media, as well as the volume of conversation about their business, products and services. Mehta says, "However, the social media listening command center offers us a great, real time global view of conversations and enables us the aggregate and track the data so that in real time we understand what topics matter to our customers. When you are embedding social media as a tool across virtually every aspect of the company to be used by employees as one of the ways they stay in touch with customers every day, then we cannot total up number of people or dollars we are investing, as it is part of how we do business"
And listening has really become part of Dell's marketing, and by extension its core business. The company tracks tens of thousands of Tweets daily that mention the company and its products, in 11 different languages. "You have to start with social media by listening and understand how many conversations or places you are being mentioned and which are relevant to your business," he says. Issues are tagged and delegated to the appropriate department for quick resolution.
It is ironic that Mehta is such a good listener, given that one of his earliest jobs was an engineer for the Three Mile Island nuclear plant, although working there about a decade after the accident. "The nuclear industry did a really bad job back then about addressing public fears and safety concerns," a lesson he has taken with him for his tenure at Dell.
To give you an idea of their global reach, the Dell.com Web site is now delivered in 34 different languages and locales. Many of the conversations are in English, despite the native language of the original customer. "Quite a few people use English in Asia and elsewhere, so our coverage works out to about 80% of all conversations we could have," he says. "Listening is core to our company and our values." Dell plans on opening new listening rooms in China and Europe later this year to extend its model and to focus attention on the function. "The listening room is a great tool to galvanize our work force and employee base to show physically how to do it and how easy it is to participate in these conversations," he said.
The company counts on social media being part of a lot of different jobs throughout the company, and to emphasize this has trained more than 5,000 out of the more than 100,000 Dell employees worldwide. As part of an effort that they call Social Media University, Dell has developed a series of 11 different internally created classes that staffers can take to get certified in using social media, starting with a two-hour basic class. "We have a pretty regimented curriculum to go through, and all told it is probably a day and a half of different classes," he says.
The classes are held all over the world, including in Dell's offices in China, Germany and India. "Our goal is to get to the next level where we do more engagement using social media. We can't expect everyone in the company but we want to certify and train more of our employees." Once you finish the class sequence, you are authorized to blog, tweet, and post as an official Dell representative. "We need to get the level of engagement where this becomes a natural part of people's jobs," he says. "That is our next frontier."
Social media can be used for a variety of marketing purposes, including helping with better communications or handling crisis management. "Some companies use social media as a defense play or for thought leadership, such as promoting their blogs and position pieces. And cable companies and airlines will use it for better customer service. Some will use it for idea generation, like Starbucks, to improve products via customer input, or to generate demand for viral marketing or ad campaigns or lead generation. And others have used social commerce, putting social media feeds right inside their Web sites to drive conversions and sales. The difference here at Dell is that we are using it in every one of these functions. Every department uses it distinctly for their part of the business."
There are lots of examples how Dell uses the information it gets from all this listening. These conversations have influenced a wide number of its past and present products and plans, as well as helping to refine several of its marketing messages. What has happened is tighter and quicker feedback loops between customers and the company are happening in many different areas:
They fixed Bluetooth drivers when a software update resulted in significant issues;
They have launched new Products based on input from Ideastorm
(Product Red);
Feedback from ratings and reviews resulted in new drivers and speakers in a laptop model;
They are currently following up on some packaging questions raised across the Web;
Have gotten feedback on some of their mobility products hasresulted in constant improvement on newer versions..
They changed images on Dell.com because customers thought there should be clearer representation of size and shape of replacement batteries.
As another example of its marketing reach, Dell's main Facebook page contains an item called "tag team" which aggregates user-generated reviews to help customers choose the most appropriate system. It allows much of their marketing of their systems to be placed in the hands of their customers, since they identify how they want to use a certain system and they can compare it to suggestions from what other customers have chosen.
Mehta compares the state of social media to the state of Internet email back in the mid-1990s, when corporate standards were still evolving and not everyone understand the power of the connective tissue of the technology. "We didn't think about having any return on investment for the telephone or for corporate email back when they were introduced," he said. Now Dell has corporate standards for how it creates new social media accounts – employees are identified by their first name appended by "@Dell" in their Twitter handles for example. "We register everyone who gets trained so that we can keep track of who is posting. We also do this so we can terminate your account when you leave the company. There are lots of issues that we haven't really seen yet, such as what happens when a Twitter user leaves and takes their fans or followers with them to a new company?"
The same standardization is true for the official Dell Facebook pages. At one time, the company had hundreds of them, proliferating as various product and account teams set them up. "Now we have less than 50, and we are trying to make more sense of using Facebook," he says.
While Dell got it fabled start in a college dorm room and became big by selling directly to customers, the company lost its way in the mid 2000's with a series of quality control and attitude issues brought on by hypergrowth. That thankfully has been turned around, and today the company is on the forefront of how it listens and reacts to its customers.
Charlene Li, the founder of Altimeter Group and author of Open Leadership, gave Dell one of her awards for organizations that best demonstrate open leadership principals. She says, "Dell has been an active participant in social media but what continues to impress us is that they are committed to continually pushing the boundaries of social business by pushing engagement into all areas of their business practice. What started out as basic monitoring and reputation management has turned into a way of doing business that permeates through every department. This does not come easily or quickly and Dell is being recognized for their dogged determination to being "direct" with their customers in multiple ways."
By listening and engaging with customers via discussion forums, product photos and videos, member profiles, and chats, Dell's Enterprise Technology Center has influenced new sales cycles and has helped move current sales cycles forward.  In one year, the Tech Center community has experienced a 270% growth in website traffic, according to Dell representatives.
Dell has had some cybersquatters or others who misrepresent themselves as official corporate spokespeople, but so far these have been just blips on the radar. "Usually people back away when our legal department contacts them. But it is a bit of a whack-a-mole, in that you can't rest, there will always be someone popping up."
Despite all the social media marketing efforts, Dell isn't resting on its accomplishments. Manish wants more staffers certified and trained. "I feel that we are in the lead, but we are in inning two of an extra inning ball game of the social web. I also want to see examples of other companies that have turned the tide and doing great things with social media." Always the listener.