It is hard to believe that I have been working in IT for close to 40 years. I got my start doing tech support connecting dedicated NBI word processors to room-sized Xerox printers when the first IBM PCs were coming into corporations. I have written about my first editorial job at PC Week (now eWeek), and it has been quite a ride since then. And no, I am not writing this post with any thought of retirement. I am still having far too much fun. 
One of the best parts of my job is talking to my sources, IT managers who I have had the honor to know for decades through many job changes (both theirs and my own). It has been fun and rewarding to watch their careers and their responsibilities grow. Some are now retired or have moved on to non-IT fields and some are still running around fixing things for their companies. I wanted to celebrate the many men and women who have contributed to our industry and so here are some of their stories, and my thanks to having their contributions once again.  Let the celebrations begin!
David Goodman is working for Build Consulting and has been in the non-profit field since we first met when I brought one of my test servers to the Guggenheim Museum in NYC 30 years ago. His first IT employer was working for a small object-oriented compiler vendor in the late 1980s.
Jerry Hertzler began his career as an engineer at McDonnell Douglas back in 1998. He left there and started in IT for the Campus Crusade for Christ as a network engineer, where he still works and has supported many of their local chapters around the world. We met when I was doing a column for Infoworld back in the mid-1990s where I would hook up a vendor with a new product with an organization that wanted to upgrade to the product. (Think of an HGTV makeover but for nerds.) The vendor agreed to provide the product for free as long as I could write about the experience. The resulting article can be found here: Campus Crusade gets VG'ed, "I guess that was our first major purchase, getting additional VG hubs."
Gayle Barton got first job in tech with Xerox in 1973, learning how to program in COBOL and being part of an early in-house training program there after getting a BA in economics. Her last job before retiring in 2019 was the interim CIO at Springfield (Mass.) College. Along the way she held other collegiate IT and CIO positions. We met when I spoke at a collegiate IT conference at my alma mater Union College.   
Mark Lillie started his career as a salesman at ComputerLand. Back then he sold Texas Instruments PCs, the Xerox Star and the Osborne. "Those turned out to be less than ideal choices," he recalled. He went on to have a career in healthcare IT, ending up as Director of Customer Services for a software company. We met at a conference, and I came to speak when he was at Blue Cross/Blue Shield of Connecticut's IT department. "The mainframe guys were incredulous that I knew you personally!"
Adam Kuhn got his start in selling copiers and memory typewriters. He realized early on that he wasn't the greatest salesman but recognized his love of tech. He got his first IT job working in a trade association in DC and has risen through the ranks where today he is Director of IT for a financial services-related trade association. "You met me early in my career and saw my potential," he said. My favorite story was when his company removed their IBM mainframe back in 1995.
Don Berliner's first employer was an early IT consultancy and he continues to help a local non-profit to better manage the services they provide their clients. We met in person a few years ago after corresponding for decades and found that we both got the same graduate degree in Operations Research, along with other similarities in our career paths.  
John Cronin got his start as an engineer at Monsanto, where he led a team that implemented the company's first large-scale LAN and got Windows to run reliably across it. Later on, he worked as an IT architect for IBM even though his time there was unsatisfactory. "My biggest financial decisions were during my engineering days.  Our "small" projects were $10 to 20M, which by comparison many people had $1M IT projects. My approach was from my engineering days where you developed a deep understanding of the technology you were using and knew whether it would really work or not.  In engineering, failure is never an option but in IT, project failures are quite common and I actually killed my first three IT projects because the tech wouldn't work." While we didn't meet until later in his career, he served as one of Infoworld's IT advisory board members when I was writing for them. 
Terry Evans operated an IBM 402 accounting machine that used punch cards way back at Barden's Pest Control, eventually moving into the PC era, and retired from the City of Long Beach as the Manager of the Data Center and Network Services. "The PC changed my professional life and has certainly withstood the test of time." While at the city, he put in ESRI's Geographical Information System, which was their first installation for a SoCal government.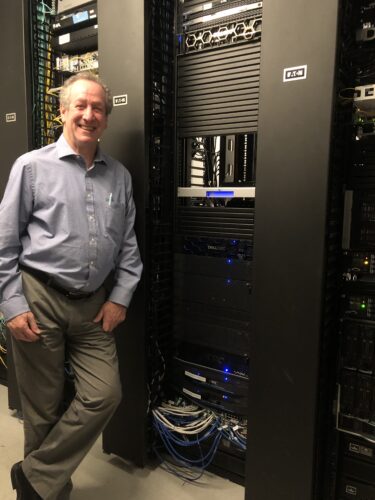 Sam Blumenstyk started out with Arthur Anderson back in 1974 and just recently retired as the Technology Operations Manager for the NYC-based law firm Schulte Roth & Zabel, where he worked for many years. I wrote about his exploits several times, including this 1993 article for Computerworld. A mutual favorite of both of ours was a series I did for VAR Business called "Sam's SAN Diary," where he kept track of the first SAN put in at his law firm around 2003. "This gave me a lot of vendor visibility." I wrote another article for Infoworld in 1995 which chronicled his work for one of his client agencies for the NYC government and his early exposure to the multiuser Citrix product.
Erica Wilson began as an IT Analyst at Anheuser-Busch and now is the VP of Global Security & Privacy Risk Management at the Reinsurance Group of America. We met many years ago when we both served on the advisory board for the cybersecurity program at Fontbonne University. She counts her greatest accomplishment being recognized for her career by the St. Louis Business Journal's 40 under 40. "It is great to see how authentication has evolved. Long ago, we had hardware key fobs for MFA. At one company, we had a full-time staffer who was dedicated to managing these tokens. This would never happen today!"
In my next post, my OG crew talks about some of their more memorable early IT purchases.