When I last checked in with Megan Squire, a computer science professor who specializes in tracking online hate trends, she was looking at the the far-right users of various messaging services. Last month she presented this paper about how this group has taken advantage of the DLive streaming video service to solicit donations and spread their horrible videos. Some of the Jan 6 Capitol rioters used DLive to broadcast their attack and exploits.
Unfortunately for these users, DLive also has a very robust and public API that allows researchers to track the flow of funds through their platform. Squire was able to examine the accounts of more than 100 different users, half of them active streamers and the other half either large-ticket donors or others of interest to her work. Some of these streamers can make $10k in a typical month in donations, providing a way to obtain regular income to these political extremists. While most of these funds comes from these donors, there is also funds that originate from lots of followers. These donations usually happen during the live broadcasts when the viewers purchase "lemons" (the built-in platform currency).
She mapped the community into this network graph shown below. You can see the pink nodes that are the streamers, and the graph shows a very fragmented audience. The streamers mostly have their own and separate fan clubs (if you analyze their donors who give them at least $120). The cluster marked B in the diagram is an affiliated Proud Boys account and the C cluster represents the activist Peter Santilli. Both Santilli and members of the B cluster are facing various criminal charges.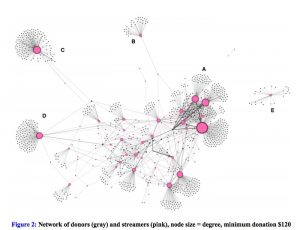 Now, Squire admits that finding these alt-right streamers wasn't easy, and by no means representative of the larger DLive community, most of whom are focused on online gaming. Since the January riot, the platform has taken steps to remove these streamers and to cooperate with law enforcement on subsequent illegal usage.
Still, while they were allowed on DLive, many of her streamer subjects have made substantial incomes from their narrowcast supporters. I am sure they have found other online platforms to spew their messages of hate.
If you don't have time to review Squire's paper, you can watch a short 10 min. video where she walks you through her research. She hopes that by shining a light on these activities, other researchers will be encouraged to examine other online platforms that have public data.