I recently spent two weeks in Israel visiting my daughter's family. Making the arrangements was an interesting exercise and exposed how broken our mutual trust relationships have become in the Covid era. There are several weak points, especially under the strain of crossing international borders:
— Crossing borders (customs and immigration procedures). Before the pandemic, there were fairly well-defined rules on how one could enter another country. Some places, such as the EU, had complete trust and no actual physical barrier between countries: it was more a line drawn on a map. But that trust has broken down, and now the rules are in flux, seemingly with daily changes.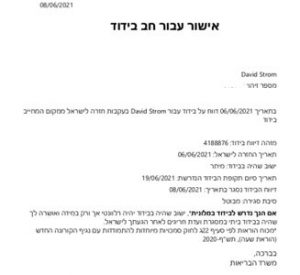 In my previous visits to Israel, I didn't need a visa as an American citizen. But I was interrogated by a customs official as to my purpose. That in-person conversation was replaced by a pre-flight application process that was maddening. I had to provide all sorts of documents to the Israeli embassy (in Miami, which covers my part of the US). My application was questioned several times before getting approval. Once I arrived at the Tel Aviv airport, I was able to gain entry to the country by just scanning my passport, and a quick conversation with a health ministry representative that wanted to see the documentation about my negative Covid PCR test. The passport scan had previously only been available to those holding Israeli passports, and is similar to our Global Entry process.
— Proof of vaccination. The issue for any American traveling abroad is that our cardboard proof of vaccination isn't trustworthy. I had to get a blood test in Israel that proved it: the locals have an app that is tied to their HMO's system that used to be a condition for entering public places like shopping malls and sports stadiums. While I was there the restrictions were removed: that is what happens when sufficient folks have gotten vaccinated. But without the blood test, I would have had to stay in isolation at my daughter's home during my entire visit.
— Passenger behavior (inflight). The news media is filled with stories about misbehaving passengers who have been arrested and removed from flights. The vast majority of these cases were from domestic US flights. The international flights that I was on saw no trouble. And when I interviewed my flight attendants, they also said that the cases were overstated by the media.
— Passenger behavior (on the ground). The five airports that I was in (St. Louis, Houston, Frankfurt, Tel Aviv and Newark) all had vastly different experiences. The most crowded airport was Houston and most of the passengers were masked and the airport shops were open and busy. In Tel Aviv's airport, few people wore masks and donned them just before boarding their flights. Frankfurt was a ghost town and few shops and airport lounges were open, although I did find one where I could take a shower. Newark was busy, and had frequent PA announcements that any passengers without masks would be subject to a $50 fine.
I am glad that I got an opportunity to see my family. The bottom line for those of you that want to travel internationally in 2021: plan ahead and be prepared to roll with sudden and inexplicable changes.