For years now many tech folks have discussed cord cutting. This usually refers to eliminating the traditional cable TV provider and replacing it with one or more streaming TV services. Earlier this month I spent a week trying to eliminate AT&T Uverse cable TV service from my life. It was a dismal failure. I first tried Hulu Live TV, then YouTube TV. Both would have saved me about $75/month if they worked as promised. What I found out is that there are two general conditions that these streaming/cord-cutting services are a good fit for:
— If you just have one TV (or have all relatively recent smart TVs) and
— If you have a cooperative family that can ignore some of the usability issues.
If you have > 1 TV (or a mixture of various vintages), you will need multiple boxes or sticks or whatever add-ons to turn your older dumb TVs into smarter ones. This is because in order to fully take advantage of the streaming service of your choice, you need a good app that runs on the TV that will present the channel guide and allow you to add programs of interest. The more gear (besides the TVs) you need, the less compelling the economics and the more complex the usability issues. Not helping matters is that the services are raising their rates: YouTube TV, for example, had a big price hike over the summer. Doing my usual thing, here is what I found:
The UIs are just awful for the streaming services. Maybe we got used to the cable UIs over time — which wasn't anything to crow about. YouTubeTV has the best interface, but it is the best of a bad lot. The problem is those change-resistors that I mentioned above. And it doesn't help matters that you don't usually have a keyboard to navigate these UIs. While it is nice that the new Google TV and some of the other devices (Like the sticks from Roku and Amazon) come with a remote, this isn't enough.
 If you have a mixed collection of different TV vintages, you are probably going to be switching between the web UI and the TV app UI, which will further confound the change-resistors in your family. Exhibit A is Netflix: their web UI has been perfected over a longer time than any of their app UIs, and despite all the code development, both of them are still less than satisfying.
The app collection for your TV is disappointing. This isn't like getting apps on Google Play or iTunes app stores. You are stuck with whatever is available for your particular generation of TV. I got a new TV last year, which is great for that TV, but unless you plan on upgrading all your home's TVs you won't be happy with the older vintage apps available.
One of the bigger downfalls of the streaming services is being able to easily rewind and fast forward (including through commercials). Uverse (and just about every cable TV provider) makes this easy. Every streaming service makes this a lot harder, and in some cases you can't skip the ads (unless you buy a premium package, and then that just lets you skip some of the ads). One of the reasons why we record our favorite programs is being able to skip ALL the ads. I also found that the time of day that you watch will determine how many ads get inserted into your programming streams.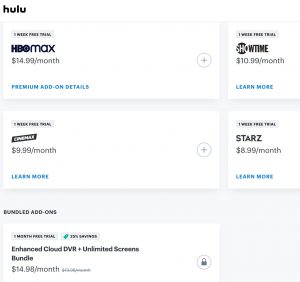 You need to read the fine print. Some of the streaming services have extra charges for multiple users or multiple TVs or multiple devices, to remove some of the ads, or to add additional capacity for recording your shows. A small subset of the various Hulu "add-ons" are shown in the screencap at left.
Finally, the TV apps don't easily maintain channel states after the TV is turned off. When I am watching channel 5 on any of my TVs — smart or not — if I turn it off and then back on, it stays on channel 5. This is not necessarily so with the apps. With my smartest and newest Samsung TV in my living room, there is a setting on the menu that I found after much poking around to enable this. But it was purely by persistence that I found it.
So I went back to Uverse over the weekend. It was an interesting experiment, and I appreciate my wife being patient as I messed around.