Last month I caught this news item about Microsoft building in a new command-line feature that is commonly called a network protocol sniffer. It is now freely available in Windows 10 and the post documents how to use it. Let's talk about the evolution of the sniffer and how we come to this present-day development.
If we turn back the clock to the middle 1980s, there was a company called Network General that made the first Sniffer Network Analyzer. The company was founded by Len Shustek and Harry Saal. It went through a series of corporate acquisitions, spin outs and now its IP is owned by NetScout Systems.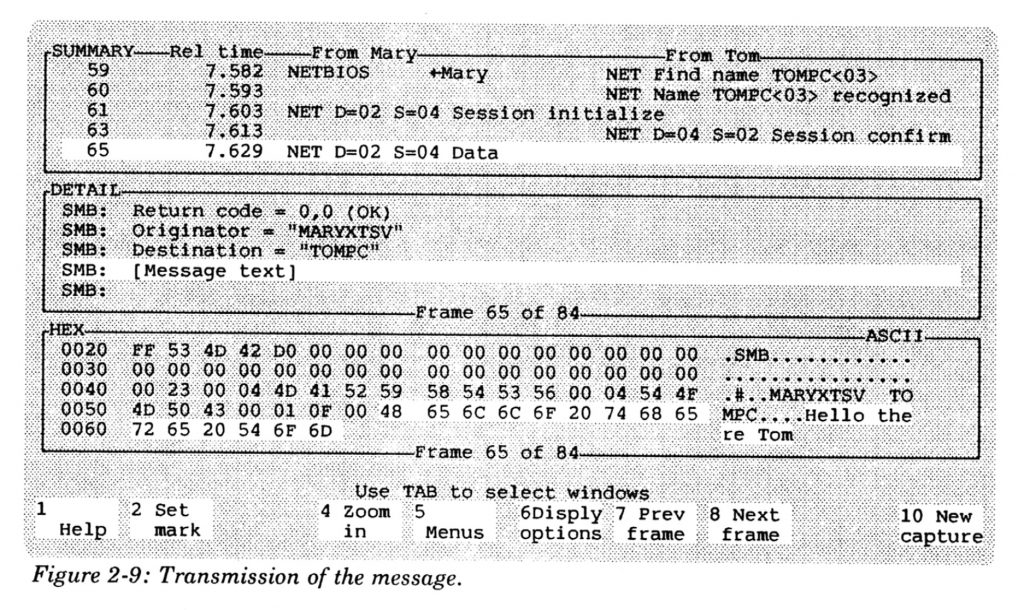 The Sniffer was the first machine you could put on a network and trace what packets were being transmitted. It was a custom-built luggable PC that was typical of the "portable" PCs of that era — it weighed about 30 pounds and had a tiny screen by today's standards. It cost more than $10,000 to purchase, but then you needed to be trained how to use it. You would connect the Sniffer to your network, record the traffic into its hard drives, and then spend hours figuring out what was going on across your network. (Here is a typical information-dense display.) Decoding all the protocols and tracking down the individual endpoints and what they were doing was part art, part science, and a great deal of learning about the various different layers of the network and understanding how applications worked. Many times Sniffer analysts would find bugs in these applications, or in implementations of particular protocols, or fix thorny network configuration issues.
My first brush with the Sniffer was in 1988 when I was an editor at PC Week (now eWeek). Barry Gerber and I were working on one of the first "network topology shootouts" where we pit a network of PCs running on three different wiring schemes against each other. In addition to Ethernet there was also Token Ring (an IBM standard) and Arcnet. We took over one of the networked classrooms at UCLA during spring break and hooked everything up to a Novell network file server that ran the tests. We needed a Sniffer because we had to ensure that we were doing the tests properly and make sure it was a fair contest.
Ethernet ended up wining the shootout, but we did find implementation bugs in the Novell Token Ring drivers. Eventually Ethernet became ubiquitous and today you use it every time you bring up a Wifi connection on your laptop or phone.
Since the early Sniffer days, protocol analysis has moved into the open source realm and WireShark is now the standard application software tool used. It doesn't require a great deal of training, although you still need to know your seven layer network protocol model. I have used Sniffers on several occasions doing product reviews, and one time helped to debug a particularly thorny network problem for an office of the American Red Cross. We tracked the problem to a faulty network card in one user's PC which was just flaky enough to operate correctly most of the time.
Today, sniffers can be found in a number of hacking tools, as this article in ComputerWorld documents. And now inside of WIndows 10 itself. How about that?
I asked Saal what he thought about the Microsoft Windows sniffer feature. "It is now almost 35 years since its creation. Seeing that some similar functionality is now hard wired into the guts of Windows 10 is amusing. Microsoft makes a first class Windows GUI tool, NetMon, available for free and of course there is WireShark. Why Microsoft would invest design, programming and test resources into creating a text-based command line tool is beyond me. What unfilled need does it satisfy? Regardless, more is better, so I say good luck to Redmond and the future of Windows."