As we become more reliant on technology to support our sheltering-in-place, we realize that many older folks are not quite digital natives and don't feel comfortable with the now-common computing tasks that many of us have jumped on to handle our lives. And that means that more and more of us have become forced into the de-facto family tech support role. As someone in my generation (60-something) who has been a tech family support nerd for more than half of my life, I wonder how many of you are experiencing this situation?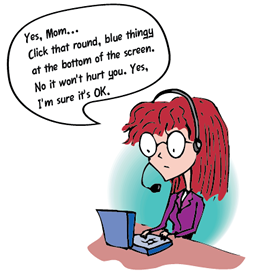 Supporting our non-tech savvy relatives has gotten harder because now so many of us depend on tech to get through the day. The stakes are higher, and the lack of digital literacy can have much higher consequences these days. So to help you out, let's start by taking stock of the dimensions of digital literacy that you might encounter.
Herewith is a simple questionnaire to give you some idea of how this will all play out in the time of the lockdown.
Can your family members receive and read an email attachment? This is a basic requirement for many online activities, such as reading recipes and receipts from online orders, obtaining documents and other items. While you may be adept at email, your older generation might have difficulty.
How often does your family member check their email? Many of our family members haven't developed a regular email habit. This could be generational: older folks never learned touch typing and young 'uns prefer texting. Without regular email scans, these folks can miss important notifications generated by their other online activities too.
Do you and your spouse share a common email or Facebook account? Many elderly folks like to share accounts, but then who does what and when? If they don't have a regular email habit, this makes the medium much less effective.
Email isn't the only connecting tech we all use these days. Does your family member use any common messaging app such as texting, Slack, Facebook Messenger, or WhatsApp? This can be a great way to stay in touch with multiple generations if you can agree on a single family platform. I have seen families that can't find common ground, which makes communication difficult.
Does your family member own a smartphone and can they install a new app on it? Many elderly have older-model "dumb" phones that date from the last century and don't do anything other than make and receive phone calls. That can limit their effectiveness. If your elderly member has a more modern phone but still  can't install or configure apps, you'll have to assign someone for that support role who is located nearby.
Have your family members used Uber or equivalent ride-sharing services? One of the first uses for a smartphone is with mobility: having a ride-sharing service is especially important for those that can't drive or who don't have cars. I know plenty of elderly who love their Ubers just as much as millennials. But usually someone has to show them the ropes.
Have your family members done any restaurant curbside pickup or meal delivery? Many restaurants are asking customers to order online or via their smartphone apps. Being able to do this in these lockdown times is a way to help bring a little variety into someone's life, as long as the family health protocols allow for meal deliveries.
Have you ever read any Twitter posts? Uploaded any Snapchats and Pinterest photos? Often the grandchildren pix are the first mission-critical app for my generation and the learning curve to figure out these social network services can be frustrating.
As we stay at home more, the center of entertainment is the TV, and today's TVs are really computers in disguise. Does your family member watch any streaming service on their TV, such as Netflix, Hulu, YouTube TV, etc.?  Do they know how to set it up? If not, you will have to support that activity. My own smart TV sometimes loses its network connection, and a hard power cycle is the easiest way to fix that. Something is wrong with that.
Let's talk about paying for various things online. For many elders, cash is still king. I recall how my dad would never leave the house without hundreds of dollars in his pocket. But these days, cash is often not accepted for fear of viral contact. So seeking non-cash methods is important. One of the first things one of my family members did was get help to set up her online bill paying. She liked it and was happy to be rid of the chores of finding stamps and printed checks. Your family members may not be interested in this process, or they may want to dive in further and use contactless payment cards and online payment processors such as PayPal and Venmo to make it easier to move their funds around and send birthday gifts to the grandkids.
The next step is buying all sorts of things online, including groceries and medicines. You might have a lot of support work needed to help your family member figure out where to do their shopping and how to navigate the piss-poor user interfaces of Instacart and others that are barely functioning right now.
The elderly are big library patrons and these days libraries have moved to their digital efforts. Can your family members check out an ebook from their local library, or purchase an ebook for their Kindle? Many elderly would still prefer printed books and newspapers, but can they order them online from their local booksellers?
One of the more popular apps to virtually meet is Zoom, and it is certainly a lot easier to join in a Zoom than some of its competitors. But how about if grandma wants to run her own book club virtually on Zoom? She might need some help getting it all setup.
As you can see, there is a lot of technology to master and manage. Being the family IT support person has gotten a lot more complicated. And as we depend on tech to get us through these times, it can be frustrating for all of us to solve the issues. Just take a step back, see how much tech we have acquired over the years, and take a deep breath.