I have been interested in social media productivity tools for many years. Back in 2013, I wrote a review for Network World of eight different ones. Of the 90+ products that I examined as part of this project, only Hootsuite and SproutSocial are still around. That gives you an idea of the volatility in this market. I decided to take another look at what is available and focused on four different services: Hootsuite, Buffer, Later and Zoho Social. I picked these four because all of them have free plans and transparent pricing so you can get a better idea of what they do before you spend significant time evaluating them. There are certainly at least a dozen others to choose from (including Mailchimp, which now offers Facebook and Instagram posting automation in addition to its mailing list management).
The idea is that as you dive into managing your brand's social media identity, you want some automated method to help with your posts, to monitor your social feeds, and to analyze the results. Now there are specialized tools for each of these three categories. But you have to start somewhere, so if you have yet to use any of these tools, I would suggest starting with the ones that are oriented around posting new content.
Each of the four support a different collection of social media networks: All work with Twitter and Facebook (and support different aspects of the Facebook universe, such as groups and business account pages). Some also support Instagram, Pinterest, LinkedIn and WordPress posts too. Hootsuite has a number of add-on apps that support other social networks.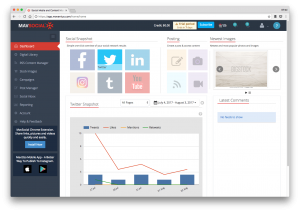 The free versions of three of the tools come with various posting limits: Zoho Social doesn't have any limits. As I said, there are other tools that focus on analytics of your posts, but each of these is useful for limited purposes – for example, Later only will provide Instagram analytics. Finally, if you do decide to pay for service, plans vary all over the place in terms of monthly fees and annual payment discounts, ranging from a few dollars a month to several hundred. The chart below has more specifics, along with a link to the pricing page with more details about what each plan offers (and doesn't offer too).
If you are going to use one of these services, examine three aspects carefully. First is their publishing and scheduling features, since that is what you are going to be doing with them. All four offer various publishing and scheduling features, including their own URL shorteners. Zoho Social will also work with bit.ly too, which is nice. Second is how these tools will fit into a team of folks that will be doing the posting. Some are easier to use in teams and have access controls to make it more useful than everyone sharing the same email address (which could be a security nightmare, particularly if a team member is fired or leaves). Finally, look at the other integrations and plug-ins and extensions that each vendor offers. If you already use any of the Zoho CRM products, their Social tool ties in nicely there. Hootsuite also has several integrations, as I mentioned.
| | | | | |
| --- | --- | --- | --- | --- |
| Vendor | Social networks supported | Posting limits | Analytics included | Pricing plans |
| Buffer.com | T(Twitter), F(Facebook), L(LinkedIn), P(Pinterest) | can't respond to content, only post new content (retweets allowed) | Posts only | Free (3 platforms, 1 user), $15- 99/month |
| Hootsuite.com | T, F, L, WordPress, others | Unlimited for paid accounts | Entire social networks | Free (3 profiles, 1 user, 30 monthly posts), $29- 599/month |
| Later.com | T, F, P, I (instagram) | 30 per month per platform (50 for Twitter) | Instagram only | Free  (1 profile, 1 user), $9- 49/month |
| Zoho Social | T, F, L, I | No limits | Extensive | Free (1 user). $10-300/month |