When the first personal computers were purchased by businesses back in the early 1980s, I was a freshly-minted engineer that was working in Washington, DC. I was trying to change the world, like so many other 20-somethings that were living there, working in and around the federal government. Little did I know that my love affair with PCs would become my career, and that they would change the world on their own, without much effort on my part.
I was thinking about this arc of my own humble life when thinking about the concept of digital nomads, those folks who have used the ubiquitous technology that has infused our lives over the past 40 years that we all now take for granted. Most of you inherently know what this means: the ability to travel and work anywhere in the world, as if you were sitting at your desk. Essentially, your desk becomes wherever you are: thanks to Wifi, the cloud and a truckload of communications technologies, you can be present globally.
While I am not one of them, I can certainly understand the appeal. In this edition of Web Informant, I want to highlight some of the folks who have interesting lives as digital nomads.
The concept of nomadic technology certainly has changed since I first started reporting for PC Week. Back then, the payphone was my go-to tool. Actually, let me revise that: Having a phone charge card was the killer app that enabled me to make calls without having any coins. Now we use a bunch of smartphone apps and the appropriate SIM card for our nomad connections. Of course, things aren't always that easy, but still it is pretty amazing how far we have come since those early days.
My earliest memory of the prototype nomadic lifestyle is Steve Roberts. He is definitely into hardware, and his first experiment was to equip a recumbent bike with all sorts of tech that enabled him to ride 17,000 miles around the country and report on his travels. He started in the 1980s, just as the PC was taking hold, and the bike is now in the Silicon Valley Computer History Museum.  Back then, you had to have a strong back and a lot of knowledge to cobble together the tools to report on the road. I also consider him one of the early "makers" as he has what has to be the most well-equipped travel workshop that now used to build his hi-tech boats. He is still active in his nomadness, just from dockside.
Another deep resource on nomadic tips and tricks is from Jodi Ettenberg on LegalNomads. As you might assume, she was a former corporate lawyer who took to the road back in 2008 and started writing about food. But then her lawyerly training took over and she dug deeper. She has a very extensively curated page of meta-things such as international visa requirements, the philosophical differences and motivations among nomads, and links to numerous discussion forums and other nomads that you can follow. Sadly, she is no longer traveling due to health issues.
A few years ago, I came across Nikki and Jason Wynn, a 30-something couple that has been on the road since 2011. They initially sold their Dallas home and contents and bought an RV. They drove around the country for six years and then traded their RV for a sailboat. They are now somewhere in Polynesia, taking on the world.  Their YouTube channel gets 200K views with a wide range of upbeat videos that show lots of hands-on insight into the gear they use to stay connected when in the middle of an ocean, along with how they keep fresh water and live off the grid with all their electronics. The videos also have the usual travelogues about what they are up to and where they are.
Boating is also a big motivation behind Cruising the Cut. This is a solo effort from a 50-year-old former British TV journalist David Johns. For the past three years, he has been living aboard his narrowboat and navigating the extensive British canal network. I found him appealing, a combination of understated British irony (think of some of the characters played by John Cleese) with some boating-flavored HGTV "tiny house" design shows thrown in. Johns averages about 60K views of 170 different episodes. He also has an extensive curated list linking to other narrowboaters documenting their nomadic existence if you want to take a deeper dive into this subculture.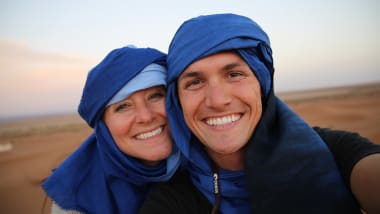 Let's move on from boating to flying. Kara and Nate Buchanan are another young couple that three years ago took to the skies and have a goal of visiting 100 countries. They are currently making their way through the Middle East and have produced more than 500 videos with 600K followers of their exploits. They are all about the people and the food and are very upbeat (sometimes bordering on the twee) about their adventures. If you want to know exactly how much money they make from their efforts, they are also the most transparent and provide monthly reports of their expenses and income. If you want help accumulating your own travel miles, they will freely share which are the best travel credit cards and other tips that they use to get around.
Chris Dodd has put together some very practical tips on how to become a nomadic freelancer, complete with flowcharts on where to find online training for the skills that you lack. This training orientation is something of his specialty, and he provides details on selecting the right coworking space among other things. He has been on the road for the past two years.
Mike Elgan has been writing about tech as long as I have, and now he has turned his nomadic leanings into a viable business. He and his wife Amira run Gastronomad, where they offer foodie tours to satisfy those who can't afford to go 100% nomadic but still want to travel to interesting places and get off the beaten path. Given his background as a product reviewer, their site has a lot of info on camera choices, among other things.
One perspective you don't always see online is from Matt Karsten, who started out with the ExpertVagabond blog back in 2010 and eventually gained millions in followers. Earlier this month, he wrote about quitting traveling due to burnout and after meeting the woman he would eventually marry. "Trying to juggle a normal work routine when you're also trying to figure out where to sleep next week just isn't ideal. Often, I never wrote much about the places I was living because I was too busy catching up with work after months of traveling."  They have moved to LA.
I have just tapped the surface of these nomads, and have tried to give you a sampling, including a few who are still wandering the planet in search of new adventures. As you can see, some have given this life up and "settled down," whatever that means. Some travel as couples, others as singles. Some are into the hardware, some are more about learning their craft. You may follow or know of others or count yourself as nomads; feel free to share your own stories and recommendations on my blog comments. And good luck if you decide to pursue your own nomadic dream.