I just returned from a trip to Israel, and as the old joke goes, my arms are so tired. Actually, my fingers, because I have been spending the better part of two days on the phone with support techs from both AT&T and Apple to try to get my phone back to the state where it works on the AT&T network.
My SOP for travel is to use a foreign SIM card in my phone. This has several benefits. First, you don't pay roaming charges for local in-country calls, although if you are calling back to the States, you might have to pay international long distance charges, depending on your plan. Second, if people in-country are trying to reach you, they don't pay for any international calls either, since they are calling a local number. (Some of the networks overseas have the more enlightened method of calling party pays, but we won't go there for now.) You also don't use any minutes or data GB on your American cell account, which is nice if those are limited.
For the past several years, I had been using two different travel SIMs. First is one from FreedomPop, which was a very inexpensive card with monthly fees around $15 for a decent plan. I had some billing issues initially but these were resolved. It doesn't work in Israel, so I ended up buying another SIM at the airport kiosk in Tel Aviv. My last trip in October had some major hiccups with that card, and so I decided to try a new supplier, Call Israel. They offered a plan for $50 that seemed reasonable. AT&T charges $60 a month with lower data usage for Israel. If you go elsewhere the fees could be less.
Call Israel mailed me a SIM a week before my trip, and right away I saw an issue: I was just renting my SIM card. At the end of my trip, I had to mail it back. Strike 1.
But strike 2 was a big one. I made the mistake of taking my Israel SIM out of my phone when I changed planes in Europe on the return trip, and put in my AT&T SIM card. That confused my phone and got me in trouble. When I landed in the States I spent an hour on the phone with a very nice AT&T person who verified that my phone was working properly on their network. Except it wasn't: I could get voice service, but not broadband data service. Some parameter that the Call Israel SIM had needed was still set and messing up my phone, and there was no way that I could access that information to remove it.
I ended up speaking to Apple next, because I figured out that they could get rid of whatever it was that was blocking my data service. I had to find an older iTunes backup that I had made before I went abroad (lucky I had done so with Time Machine), and then wipe my phone clean and bring that backup to the phone. All told, several hours were wasted. I found out that there is a subtle but important difference in how iTunes and iCloud handle backups. I was fortunate to find a very nice woman from Apple who called me back as we tried various strategies, and eventually we figured out what to do. This took place over the course of a couple of days. Here is the bottom line: your phone has hundreds of parameters that determine whether it will communicate properly. Some of them aren't accessible to you via the various on-screen controls and are hidden from your use. The only way to change them is to restore from a known working backup.
So if you are planning on being out of the country, think carefully about your options. Consider if you need a foreign SIM for a brief trip. If you can afford service from your American provider, do so. Or if you can find Wifi hotspots, you probably can do 90% of the work on your phone by setting it to airplane mode when you leave town and not turning it on until you return. Under this scenario, you would use Facetime, What'sApp and Skype for voice and texting. Does that additional 10% make the difference? If you have a terrible sense of direction and need Google Maps, for example, you will need that broadband data. Or if you are traveling with other Americans and need to meet up, you might need the cellular voice flexibility.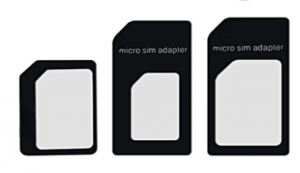 SIMs come in at least three different sizes, and most suppliers ship them with cardboard adapters so you can fit them in your phone's compartment. It doesn't hurt to check this though.
Next, don't swap SIMs until you reach your destination. If you need to look at buying a local SIM, make sure you understand how you have to bring your phone back to its original state when you come home. Make backups of your phone to your computer, to the cloud, to as many places as possible before you leave town. If you have an iPhone, read this article on how to find the iTunes backups on your system.
Next, when you are looking for a mail-order SIM, make sure you are actually buying it and not just renting it. Check to see that it will work in all the countries on your itinerary. Or wait until you get to your destination, and buy a local SIM from a phone store or airport kiosk.
Finally, examine the calling plan for what it will entail and match it with your expected usage on texting, data, and voice volume. Examine whether your calls back to the States are included in the plan's minutes or not. If you don't use a lot of data, you probably can get by with a cheaper voice-only plan and finding WiFi connections.  Happy trails, and hope they don't turn into travails.