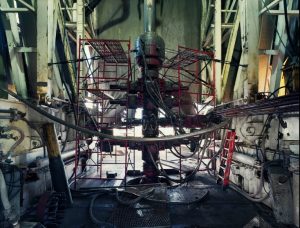 As I grow older, I tend to forget about events in my youth that shaped the person that I am now. I was reminded of this last week after seeing a Thomas Struth photography exhibit at the St. Louis Art Museum. Struth's pictures are enlarged to mural size and depict the complex industrial environments of the modern age: repairing the Space Shuttle, a blowout preventer at an oil rig (shown here), the insides of physics and chemistry labs, the Disney Soarin' hang glider simulation ride, and chip fabrication plants. Many of these are places that I have had the opportunity to visit over the years as a technology reporter.
The pictures reminded me of a part-time job that I had as an undergraduate student. My college had obtained a set of geometrical string models that were first constructed back in the 1830s
and demonstrated conic sections, such as the intersection of a plane and a cone. Back then, we didn't have Mathematica or color textbooks to show engineering students how to draw these things. These models were constructed out of strings threaded through moveable brass pieces that were attached to wooden bases, using lead weights to keep the strings taut.
The models were first built by a French mathematician Theodore Olivier, and were used in undergraduate descriptive geometry courses up until 1900. I was one of the students who helped restore them. While the models look very nice now, back when I was a student they were in pretty bad shape: the wooden bases were cracked, the brass pieces were tarnished, and the strings were either tangled or missing. It took some effort to figure out what shapes they were trying to display and how to string them properly. Sometimes there were missing parts and I had the help of the college machine shop and local auto body shops to figure out what to do. The best part of this job was that it came with its own private office, which was a nice perk for me when I needed to escape dorm life for a few quiet hours. After I graduated, the college put the finished models on display for everyone to see.
The intersection of art and technology has always been a part of me, and it was fun seeing Struth's work. it was great to get to see the details captured and the point of view expressed from these images, lit and composed to show their colors and construction. And the photos reminded me of the beauty of these advanced machines that we have built too.