I never thought I would see the day where executives and major public figures would be proud of their techno-luddite status. Scratch that. Not proud, but grateful. In a story in today's New York Times, several senators and other public figures are quoted about how they have given up their personal email accounts, or have begun scrubbing their sent folders, thanks to the recent series of leaks from the mailboxes of the DNC and Colin Powell.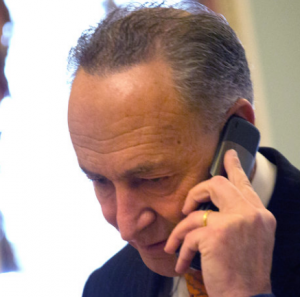 Senator Lindsey Graham said, "I haven't worried about an email being hacked since I've never sent one. I'm, like, ahead of my time." Senator Chuck Schumer is noted for still using a flip phone. And of course there are the email-related stories that doggedly follow one of our presidential candidates around. All of a sudden, it is cool to be more disconnected. Especially ironic, given today is also the day millions will flock to the nearest Apple Store and buy a phone that doesn't have a headphone jack. (Shelly Palmer's rant on this is pure pleasure.)
The hacked emails seem to be genuine, at least according to press reports and the impact they have had with the shake up of the DNC leadership. But they have also had the effect that others in the public eye are reconsidering the contents of their own message store.
I have even learned a new acronym: LDL, for let's discuss live. Meaning, "too hot to talk about in email."
So let's all just take a deep breath and look calmly at a few simple rules for your own email usage going forward. First off, yes, emails can be compromised. Don't say anything there that you wouldn't want anyone else to read. While you may not think you are a target or of any interest, you have no control over where that message might end up. You might want to walk down the hall for a quick FTF meeting, or even pick up the phone. Think about the 80's.
Second, if you are very worried, start using encryption, and make sure it covers the complete path end-to-end. There are several instant messaging platforms that are easy to use (Network World did a recent review comparing them, and I have written reviews of encrypted email products for them as well). Yeah, I know, encryption is a pain, but the current crop of products is actually pretty easy to deploy and use. Having said that, hardly anyone sends me encrypted emails, ever.
Third, take a moment to review your password collection for your communications products, including your IMs, email accounts, voice mails and VoIP products. If you use the same password for more than one of these tools, take a day and install LastPass or some other password manager and start treating these passwords more seriously. Do it this weekend.
Finally, don't hide behind your personal accounts such as Facebook or a non-corporate email address. Those are just as much at risk, as one network anchor realized who hurriedly deleted his Gmail account that was cited in the Times story. Everything is discoverable and vulnerable these days.