Like many of you that grew up in the 1960s, I have been spending a lot of time online looking at the various commemorative links to the Apollo 11 moon landing that happened 40 years ago this week. I found it fascinating, not just because the event was such a key moment in my teenaged nerd life, but also because it shows how we managed to triumph over technology that wouldn't even be found inside your average watch today, let alone a cell phone or computer.
The Apollo spacecraft had three different display units onboard, running two computers: one in the main command module and one in the lunar module. Both weighed 70 pounds, ran at 1 MHz and had about 152 kb of memory.
To get an idea of how primitive the guidance computer was, you didn't have a typewriter interface or a display screen, but a box with mostly numeric input that you had to key in "nouns" and "verbs". You can go here and try the simulator.
The first moon landing was beset with problems. Armstrong had 17 seconds of fuel remaining, after having to take manual control over the lunar module and fly past some obstacles. The site was four miles off course because the module wasn't completely depressurized when it separated from the command module – a small amount of gas pushed it off course.  And during the descent, several people (including the New York Times at the time here) documented how many times the guidance computer would get overwhelmed with data inputs and had to be rebooted, because Aldrin had not set one of the radar switches properly and it was filling up the computer with too much data. A young engineer, Stephen Bales, made the critical decision to ignore these warnings.
There are probably hundreds of Web sites with various tributes to the space program, I will just mention two places that I enjoyed reading. First is a special report compiled by EE Times, which has eyewitness accounts from a few of the engineers who worked at NASA, along with a teardown of the space suits used and other technical info about the program. It also has a link to a real-time visualization "experience" that you should definitely try out.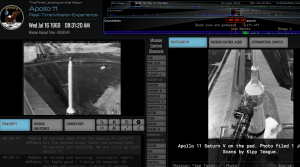 The other is a list of numerous technological achievements from the space program that have found their way into our lives. And while Tang isn't on the list (and it is dubious whether it should be), there are lots of other things showing just how much innovation NASA had to do to put two men on the moon and bring them back home safely.