For the past month, I have been messing around with an Ecobee "smart" thermostat for my condo's heat pump. The reason for the quotes will become clear as you follow along in my journey.
I live in a high-rise condo and it was time for the regular servicing of our heat pump, if by regular you mean a spousal request that I should finally get the AC tech out to tend to it. The tech came, said everything was looking good but that you might want to get a new thermostat, for reasons that I don't recall now. That provided enough motivation for me to start down my Ecobee journey, which is the brand that the tech recommended.
My electric utility was offering half off if I bought it through them. They also had free Nest thermostats, which my tech said I should steer clear of. Given that they were free I figured that something was wrong with them. So I got the mid-priced model and it arrived a few days later. It did take three phone calls to find the webpage to order the thing, let's just put that there in terms of pain points.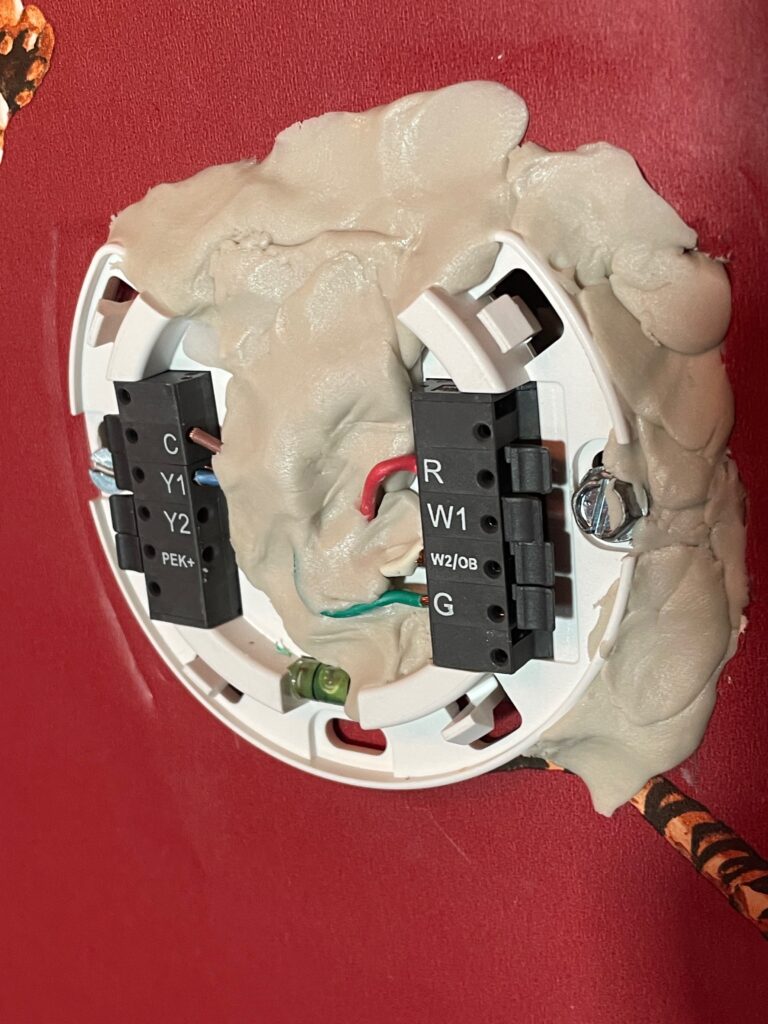 Now, I have to say right up front that I am not a handy guy. Generally, I know my limitations. I was going to give the Ecobee a try, until I saw that I had to deal with putting a bunch of tiny wires in the right places. (You can see what I mean in the photo above. The putty around the edges is to block out airflows from behind the wall, which was suggested by the hot line folks.) I put in a call to my AC repair folks, who happily charged me more than I paid for the device to come install it with tech #2 (a different guy from the first one). Some drilling was involved. I made the right choice not to fly solo on this install.
I was impressed with the level of support from Ecobee: their smartphone app will take you step by step through the initial installation and also help troubleshoot any problems. There is also a phone hotline that is answered promptly and by native English speakers who have tremendous patience to deal with your issues, and I had plenty. One concerned the fact that the temperature reported by the thermostat was off by four degrees with a thermometer that we were using to verify that it was working. After several calls to the hot line, they told me that I could adjust the temperature with a "fudge factor" (that wasn't the term they used but that is what it was) so they could match.
But we also had another problem, which the kind folks at Ecobee put the blame squarely on my heat pump. It turns out the water drain from the unit would clog up, but only after the unit would operate for an hour. Another visit from the AC tech, at least this one was free where tech #2 (the same guy who installed the thermostat) found the problem.
So I think we finally have all systems go. One issue that still remains is that the Ecobee has three different ways to control its operation: a touch screen on its front panel, a web page or via its smartphone app. All three have slightly to majorly different user interfaces. Some things are quickly accessed with one or the other interface, which doesn't make it spousal friendly. But one nice thing is that you can control it when you aren't home, which is helpful in debugging problems and also when you are on vacation and want the home cooled or heated to your requirements before you walk in the door.
Do I regret buying the Ecobee? No. I regret that it takes an IT guy 10 phone calls and an outlay of cash to get professional help to get it operational. Hence why I put the "smart" in quotes: maybe if it was used by a "smarter" home owner I would feel differently. Now if only I could get my "smart" TV to work the way I want it to.