It seems as if my email and social media feeds have been filled with fundraising requests ever since Thanksgiving. As these requests pile up, I have been thinking about my own charitable giving policies and how they have evolved over the years.
The spread of social media has provided a ready-made pathway for asking our "friends" for money  — and tor them to return the favor. Back in the day when MySpace was the main social network, fundraising was conducted by individual emails or even letters in the mail. Now, thanks to Facebook (and other sties such as Causes and GoFundMe) it is very easy to set up your own personal campaign and you too can be asking your friends for money. In one way, that is progress: we should encourage more philanthropy and provide help to others when we can.
But the proliferation of sites has raised problems for us all: To which cause do we contribute? How can we be sure that a personal appeal in a GoFundMe campaign is legitimate? What do we really know about the causes we are being asked to support?
I confess that this tsunami of appeals causes me internal conflict. I want to be a good person, but my resources of money and time to sort out many requests are both limited.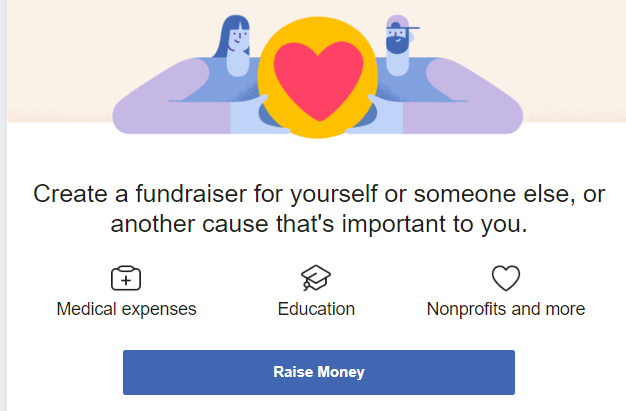 I asked two of my friends how they sort out these person-to-person (p2p) requests they receive:
Sarah, a non-profit CEO, told me "If the request doesn't really speak to me, or I feel like it isn't really an urgent need, I pass it over. If I see it as making a difference, I usually try to support it in some way.  I typically make my decisions based on how well I know the person, or the specific need for the campaign. If it directly helps someone who has experienced a crisis or has a critical need, I am more inclined to give and at a more significant level."
Kitty, a development director, contributed to her high school friend's medical bills as he was dying of cancer. "I did this so his wife, whom I've never met, wouldn't be burdened with these bills after he was gone." She told me that she was generous with her donation because of the personal connection, even though the connection was established long ago.
For myself, I draw on my upbringing. When I was a teen, I learned about the Talmudic sage Maimonides and his concept about having eight different levels of charity. The highest levels have to do with what I will call double-blind giving: you don't know the beneficiary, and they don't know you are the specific donor. The modern style of p2p giving would be very far down Maimonides' list.
For many years, my own charitable giving has tried to adhere to the Maimonides model. Almost 20 years ago, I decided to get involved in raising funds for curing various diseases: Juvenile Diabetes, AIDS, cancer, and Multiple Sclerosis. I knew friends and family members who suffered from them and that connection caused me to want to help. I ended up doing an annual bike or walkathon and using my contacts – namely those of you who are reading these missives – to raise money. And thanks to you, for many years I have often been very successful in providing meaningful support for these causes.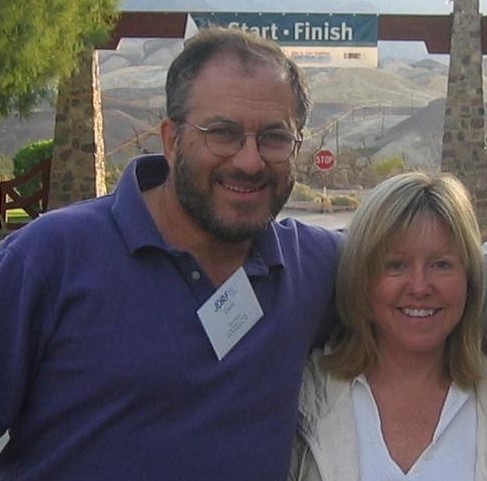 Then in 2002, I broke my shoulder training for a ride a month before an event. When I called the organizers, they told me to come to Death Valley (where the event was taking place) anyway: they wanted me to participate, even though I wasn't going to be able to ride. I was glad I did, because my now wife Shirley (shown here at the JDRF finish line) was also a volunteer for the event, and that is where we met.
I was deeply moved that when I told the people who had made pledges to support the ride that I was not able to participate, virtually everyone said that their support was for the cause, not my individual participation, and they wanted to make the contribution in spite of my injury. That is truly the spirit of philanthropy that inspires me and that inspires you as well.
I asked several of my readers to their reactions to an early draft of this column. "An explanation of why and what you are riding helps me in my decision to give you funds," said one. "I grew up in a time when asking for donation was an in-person activity," said another. "Nowadays, we have no sense of community. Instead, these p2p donations have become nothing more than feel-good tax deduction trading." Another supporter said she gives to my causes because I am doing something (the ride or the walk) in addition to "the ask." And one reader said he is suffering from "donation fatigue," even though he tries to give up to 10% of his income every month to various causes. And another wonders when did this public begging become so acceptable? She thinks we are taking a step backwards.
So, with that background, I will continue asking from time to time where I believe in the cause. I will happily consider requests where a broad-based benefit is the object of the giving. Together, each of us choosing our own causes, we can make a real difference.
You are welcome to share your own charitable giving philosophies with me or my readers.