A friend of mine, Dave Crocker, has been volunteering for Red Cross activities around the California fires and Houston floods over the past several months, and has been working as a volunteer for them for more than nine years. I thought it would be an interesting time to chat with him about his experiences and consider why the media is so often critical of the Red Cross .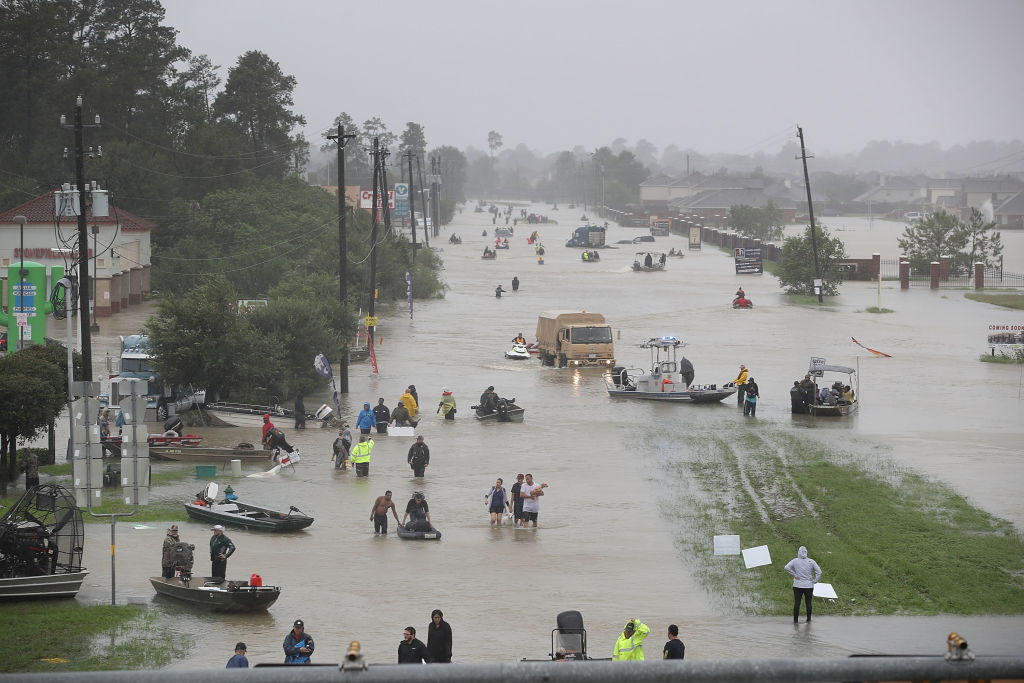 Crocker was in Houston for two weeks, starting two weeks after the hurricane hit. He has been a shelter supervisor at both small and large operations, a dispatcher for daily, local disasters, and helps out in other situations, both in the field and in their offices. Given his tenure as a volunteer, he has taken numerous Red Cross training classes, including learning to drive a fork lift (although not that well, he ruefully notes).
The work is challenging on several levels. First are the 12 hour shifts, usually 7 to 7. Except they often don't end exactly at 7:00; so your shift lasts 13 or 14 hours or more. If you are on a night shift, that can be even tougher. You get one day off per week, if you are lucky. You sleep wherever you can find a bunk, sometimes that means you don't exactly have five-star accommodations, or even one-star. "I've slept on a shelter's army cots, but in Ventura I paid for my own accommodations and got a hotel room. I don't sleep well on cots. Some of my fellow volunteers have slept in their cars or on the ground."
He is very proud of his volunteer efforts, although he doesn't carry any personal hubris in what he does. "First and foremost, it's about helping our clients," he told me in a recent phone call and over a series of emails and Facebook posts. "Self-praise almost never shows up in anyone's behavior. The focus is the work."
One of the things he learned from the recent series of disasters was to expand his definition of a "client". Originally, he thought just the people displaced by the floods or fires were his clients, but other volunteers pointed out that the Red Cross ecosystem is much greater, including someone who donates items or funds to a relief effort. "The rest of the community is also our client, because they are also affected by the disaster and are compelled to be connected to it, by coming to the shelter to donate or by asking how can they help."
One of the challenges is that these spontaneous donations can become overwhelming. In the Ventura County fires, Crocker experienced this first-hand. "We saw an enormous amount of donations of water, snacks, face masks, diapers, clothing, toys, and more, That was all brought to our shelters, and our warehouses quickly got filled. Processing all that requires a lot of staff. Historically, these donations have been turned away by the Red Cross, with a request to just send money. This has regularly produced word-of-mouth criticism of the Red Cross. This year, Red Cross policy changed and the rule is to say yes and then figure out how to make it work."  Crocker said that many tens of thousands of bottles of water were donated, as were donations that had been ordered online, with enough showing up to fill a shipping container.
Running a large disaster response is sometimes compared to the logistics of running a military deployment. "Even the smallest shelter has an enormous amount of detail to it," Crocker told me. "There is the whole setting-up of beds and linens, and then taking it all down, the ongoing cleaning of various items as clients leave and new ones register; then there is feeding three meals a day plus snacks. It is a massive logistics game and the situation is highly dynamic. Communication is challenging because you have to deal with a lot of noisy information. And equipment and geography can be difficult."
Fires are unpredictable, especially when the wind changes, and that puts a wrench in your plans, for who is affected and where to locate the shelters. The Ventura Fairgrounds shelter he worked at had roughly 250 clients, with a peak of about 500, before he arrived. The range of quality in facilities that are available is also highly variable. At Ventura, the shelter was in a building that is typically used for livestock shows. "We were in better shape in the wine country fires because we had use of a church with excellent kitchen and shower facilities and had been explicitly designed for be used as a shelter." That church-based facility has hosted a disaster shelter 11 times in the last few years. In Houston, there were roughly 4,000 volunteers in the relief effort, divided amongst 25 different shelters.
The timing of the Ventura fires produced an unusual benefit for the shelter's clients. Because the fires were around the holidays, a lot of corporate parties were canceled and as a result restaurants had surplus food that they repurposed as donations to feed the volunteers working the shelters.
One of the frustrations Crocker cites for himself and his colleagues is the negative press surrounding the response of the Red Cross volunteers to these disasters. "Sometimes the reporting focuses only on the negative, citing only one or another disgruntled person." While certainly there are issues, for the most part he sees the relief efforts as run as well as they can be, given the complex and dynamic circumstances that any large effort like this will have. "Certainly, there are people who try to scam the system, something that I've seen in my limited volunteer efforts. But Red Cross policy is to err in the direction of helping rather than rejecting people who ask for assistance."
"The work itself, and the privilege to do it, is what I enjoy, and being around people with a similar attitude, and getting the work done." Crocker mentioned in one Facebook post that "everyone has had a collaborative tone" including Red Cross volunteers, employees and even clients, which could be because many clients have been displaced by multiple fires in past years. Note that more than 90% of Red Cross staffing is done by volunteers.
I highly recommend taking a moment, and getting involved in your local Red Cross chapter. Give blood, give money, give your time. You are working with a great group of people and for something very worthwhile.