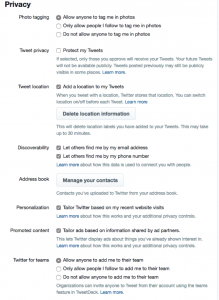 Balancing anonymity and privacy isn't an either/or situation. There are many shades of gray, and it is more of an art than science. Making sure your users understand the distinction between the two terms and setting their appropriate expectations of both should be a critical part of any job managing IT security.
Most users when they say they want anonymity really are saying that they don't want anyone, whether it is the government or an IT department — to keep track of their web searches and conversations.
However,controlling our privacy is complex: Take a look at the typical controls offered by Twitter. (See the screencap at right.) How can any normal person figure these out?  This post for the iBoss blog discusses these and other issues.